Flashback!
---
If you're graduating high school this year, it's not too early to start thinking about the party that you'll be hosting to celebrate your accomplishment and to burn off some steam after all your hard work! How do you plan a memorable party that will appeal to everyone from your BFF to grandma? How about a flashback to the year you were born?

Start with a graduation announcement/ party invitation to set the theme. I'm loving this "Remembrance" announcement for it's versatility and dual, then and now, photos.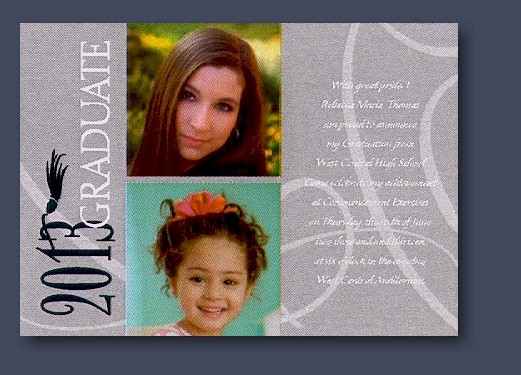 Make sure that on your party invitation, your wording indicates that guests should dress to fit the theme. This adds to the fun and anticipation as they'll all be searching for just the right outfit and accessories to reflect the era. If many of your guests are members of your extended family and were already teens or adults the year of your birth, you could even suggest a "come as you were" outfit. Uncle Dave might even have that old pair of carpenter jeans hiding in the back of the closet because he never knew when they might come back into fashion.

Choosing your background music becomes easy now. No more worrying about everyone's taste- just play a mix of all the top hits from the year of your birth. These might include songs by artists ranging from Sting and Sheryl Crow to Pearl Jam. Check out the listings on Wikipedia for the Billboard top 100 singles of 1993 and 1994 to keep the party filled with music for hours.

Posters advertising popular movies from the year of your birth around the party space are a quick and easy way to bring the memories back for all your guests. Did you know Forrest Gump and Pulp Fiction were both released in 1994? This is not only a great way to fill up space and bring your theme to life, the posters also make great conversation starters!

Staging a small lounge area in a corner for guests to relax when they're taking a break from dancing and mingling is a thoughtful gesture. How about creating a collection of popular TV shows from the year of your birth (The X Files, anyone? Or how about the first season of Friends, which debuted in 1994?) to have playing on an older tube-style television (everybody knows somebody that still has one of those in their garage, right?) Just be sure you've got them recorded on VHS tape for authenticity!

To keep people talking, leave out a small stack of cards from the 1990s edition of the Trivial Pursuit Game on each table, or better yet, use these cards as inspiration for your own trivia contest game!

And if you'll be serving food and drinks, check out the collection of recipes published in Gourmet Magazine on Epicurious.com, searching "Gourmet Magazine 1993 or 1994" for recipes printed in the year of your birth.

Choosing a theme for your party helps everything fall into place. Choosing a flashback theme makes it even more fun!

Shop for your graduation invitations now!

By Joyce Buczek
Google+

Joyce Buczek was the founder and original owner of Invitations4Less.com in 1999. She continues working with Invitations4Less.com as a consultant and guest blogger. In her spare time, Joyce enjoys traveling, cooking and spending time with her family, including 2 spoiled cats.


---
Comments
Blog Index