5 Favorite Prom Themes
---
It's that time of year again: Time for all things Prom!
So in honor of all the nervous young men and women out there dreaming of being asked, or accepted, as a date for this year's prom, here's a collection of our 5 favorite themes for 2012, along with the perfect prom invitations to go along with them.

5. Mardi Gras Prom: This is not a new or unusual theme, but it's one that we particularly love because of its color and inherent mystique. A masquerade ball is the perfect formal affair and more fun to attend than the average "Hollywood" themed prom. Imagine the possibilities when choosing just the right bedazzled mask to accompany the glittering gown you've chosen and the fun you'll have as others guess your identity before it's time for the big reveal!

4. Royal Romance Prom: The honeymoon is not over yet! As we watch the royal couple, and particularly Kate, Duchess of Cambridge, ease gracefully into their new role as husband and wife, we can't help remembering the royal wedding which captivated us just a year ago. What better inspiration for an evening of romance?

3. 80s Prom Night: There's a great clamor for all things 80s these days - funky music, unabashed devotion to certain fashion no-nos and the excuse to wear big hair. Girls (and guys) Just Wanna Have Fun! We can think of no better way to celebrate the decade than with an 80s prom night. Score bonus points by wearing a vintage 80s prom dress!

2. An Evening in Paris: This seems to be the year we dream of Paris as evidenced by the fact that multiple Academy-Award nominated films are centered in the City of Light. And never was there a more romantic setting for young love. We just can't help ourselves but fall in love all over again with this theme.

1. Twilight: OK, we admit it - we're Twihards, too! With Bella and Edward having tied the knot on the big screen so recently, this has to be the most timely prom theme of the year. Uniquely romantic, and very easy to decorate, this theme is our fave for 2012! Check out our Twilight Wedding Invitation and prepare to swoon!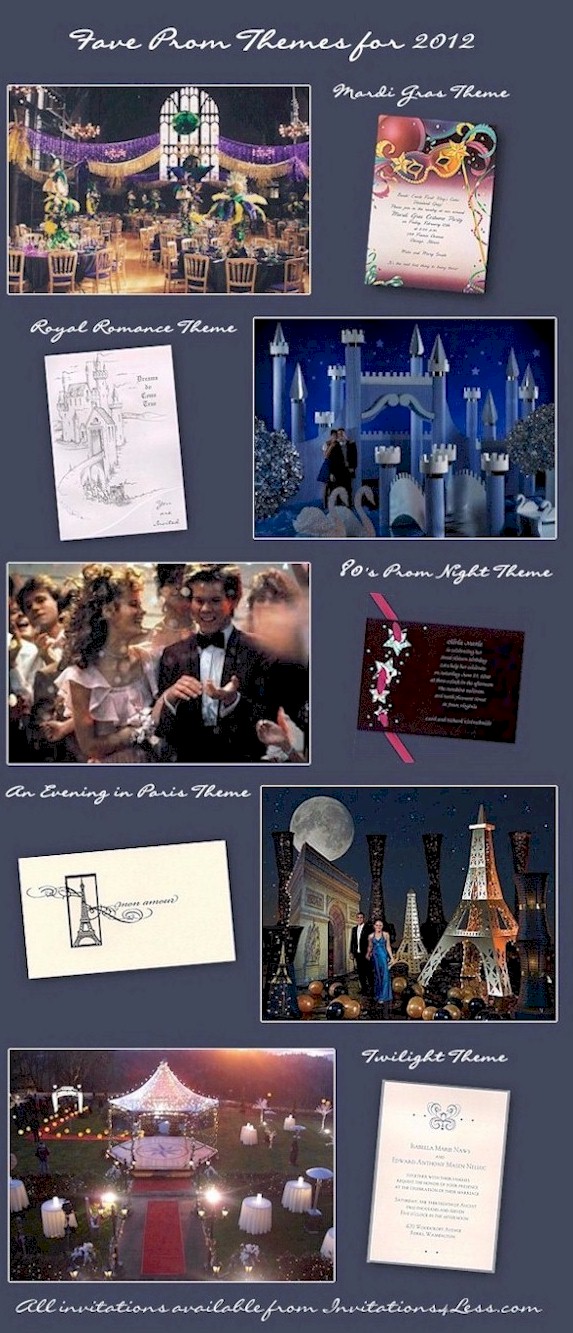 Credits:
Mardi Gras Decor: Platinum Services Event Rental
Footloose Prom Scene: Stock Photo
Royal Romance Theme: Shindigz
An Evening in Paris: Stumps Party
Twilight Prom Scene: West Coast Event Productions

All invitations are available from Invitations4Less.com

By Joyce Buczek
Google+

Joyce Buczek was the founder and original owner of Invitations4Less.com in 1999. She continues working with Invitations4Less.com as a consultant and guest blogger. In her spare time, Joyce enjoys traveling, cooking and spending time with her family, including 2 spoiled cats.


---
Comments
Blog Index