Independence Day Wedding
---
Nothing says summer like a good ol' fashion 4th of July Celebration. And what better time of year to show your love of country and each other than to hold an Independence Day Wedding?

The holiday theme holds endless possibilities for romance and fun and we've put together a little inspiration for you below.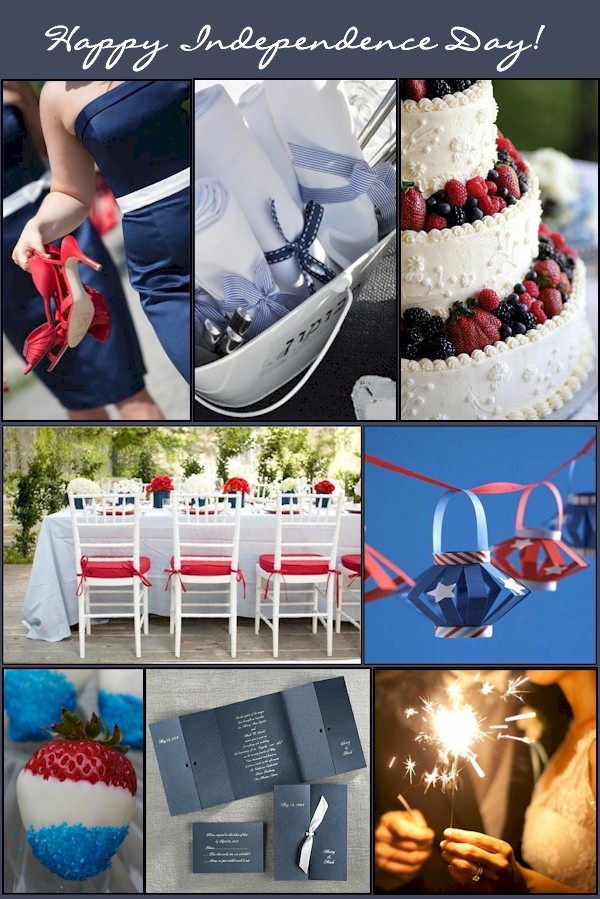 You don't need to go all stars & stripes on the bridesmaids! How about navy blue dresses with white sashes and red heels? You know they'll wear these shoes again! (Image: Lily Brooke Events)

Everyone loves a picnic on the 4th of July. Simple touches like printed ribbons in blue and white tying up your napkins bring the theme to the table without going overboard. (Image: Hatunot Blog)

A traditional white wedding cake is dressed up with summer's best berries - YUM! (Image: Bride's Magazine)

Take advantage of the summer weather with an outdoor setting for your reception. Red chair pads dress up white chairs and an oversized white tablecloth makes all the colors on the table pop! (Image: Beth Helmstetter Blog)

Simple paper lanterns in patriotic colors and varying patterns are an easy DIY Project that will dress up your space. (Image: Martha Stewart)

Try this unexpected take on dipped strawberries, dressed for the season! They're sure to be a crowd-pleaser that will have everyone talking. (Image: The Sisters Café)

Your celebration starts with the invitation. Set the tone for your upscale event with this Navy Shimmer Gate-Fold Wedding Invitation. (Image: Invitations4Less.com via Stylart)

Sparks fly when you two get together! Sparklers make a romantic and visually stunning send-off. (Image: erin and courtney DE JAUREGUI Photography)

By Joyce Buczek
Google+

Joyce Buczek was the founder and original owner of Invitations4Less.com in 1999. She continues working with Invitations4Less.com as a consultant and guest blogger. In her spare time, Joyce enjoys traveling, cooking and spending time with her family, including 2 spoiled cats.


---
Comments
Blog Index