Sweet Things Thursday: Special Options for Adoptions
---
I heard about two acquaintances this week who are starting the adoption process. One couple has a four-year-old son but hasn't been able to have another child since his birth. The other couple has two teenage sons but has lots more love to give. For the couple who has the young son, the past few years have been a rollercoaster journey of hope, heartache and acceptance that they will not have another biological child. But, they are so excited to be on a new path toward creating the family they've always dreamed of.

When the time comes, the couple is going to tell their little boy all about how his new brother or sister came to be part of the family, and the adopted child will always know about his or her history and very special place within the family.

In keeping with these plans, the new parents will have the ability to send out adoption announcements to their friends and family announcing the addition to their family and celebrating both the baby's birth date and adoption date.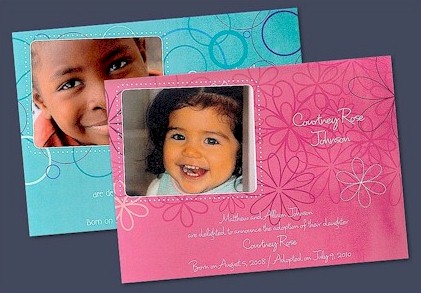 They will have many adorable choices in picking out an adoption announcement that complements the joy they feel in their family.

The couple wants each of their children to know exactly how wanted they are and how blessed the parents feel to be able to have a family. Their son's birth announcement is currently framed and place prominently on the fireplace mantel. The parents hope to one day have several more announcements to add to the collection – each one announcing the formal adoption into their family of another precious child.

By Caron
Caron has been assisting customers to announce and invite guests to their important life events since 2000.
In her hours away from Invitations4Less.com, Caron enjoys relaxing at home with her two children and two cats and spending time with friends.


---
Comments
Blog Index