Trend Alert: Babies Gone Wild!
---
Whenever a new trend hits the fashion scene, it stands to reason that it won't be long before babies are in on it. Such is the case with the animal print craze. If you haven't been to your local mall recently, all you need to do is look around you. Everywhere you go, a fashion-forward man, woman or child is sporting some sort of apparel or accessory with one or another animal print.

Zebra, giraffe, cheetah or tiger...it doesn't matter since they're all in the moment!

Here we've gathered up a collection of animal-print inspired baby products for your perusal.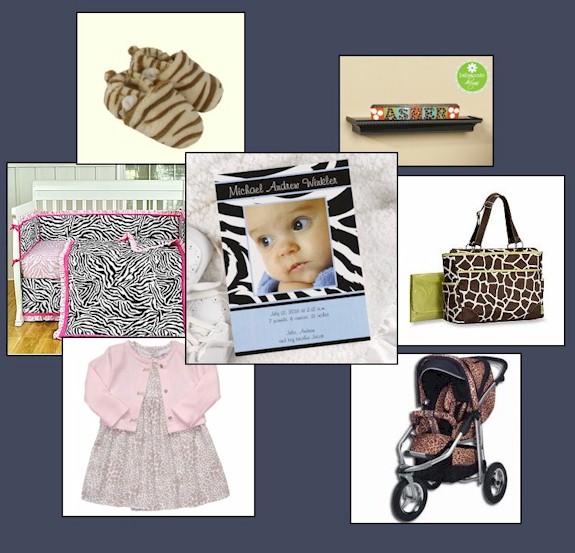 One great thing we especially love about animal prints for baby's room is how the look can grow with the child. Unlike the pastels and baby themes of the past, bright colors are appropriate at any age - so take that bedding set from crib, to toddler bed and your wall art, including that framed birth announcement, well into their tween years!

Check out our full selection of birth announcements, including the latest animal-print inspired styles, at baby.invitations4less.com

Images, Clockwise from upper left:
Tiger Print Slippers: Gallery of World Accents, available through Amazon.com
Baby Blocks: LetterBlock Shop, available through Etsy.com
Giraffe Print Diaper Bag: Carter's, available through ToysRUs.com
Cheetah Print Baby Jogger: Baby Bling Design Co., available through Amazon.
Pastel Cheetah Print Dress with Cardigan: Carter's, online at Carters.
Bedding: Okie Dokie, available through JCPenney.com


Center:
Blue Zebra Birth Announcement: Carlson Craft, available through Invitations4Less.com

By Joyce Buczek
Google+

Joyce Buczek was the founder and original owner of Invitations4Less.com in 1999. She continues working with Invitations4Less.com as a consultant and guest blogger. In her spare time, Joyce enjoys traveling, cooking and spending time with her family, including 2 spoiled cats.


---
Comments
Blog Index