Hawaiian Style
---
A child's first birthday is a big milestone worthy of a celebration. While the birthday boy or girl may be too young to really know what is going on, the occasion gives parents, friends and family a chance to get together in honor of the little one. In Hawaiian culture, a first birthday is commemorated with a baby luau. It is common to have guests in the hundreds, a large feast of Hawaiian foods, music and fun.

At a baby luau, one can expect to find traditional Hawaiian foods such as: poi (made from the taro plant), poke (raw fish with seasonings, onions, and seaweed), laulau (tasty packages made from ti or banana leaves containing beef, pork or fish), opihi (raw limpet meat), and of course, kalua pig, which is a whole pig cooked in a pit oven for hours. The resulting meat is tender and delicious! For dessert there may be treats containing haupia –a coconut-arrowroot pudding. Cooking is a family affair and everyone pitches in to lend a hand with the preparations. It's a festive event where guests can sit around and "talk story", enjoy great food, listen to some Hawaiian music, maybe even watch some of the aunties perform a little hula.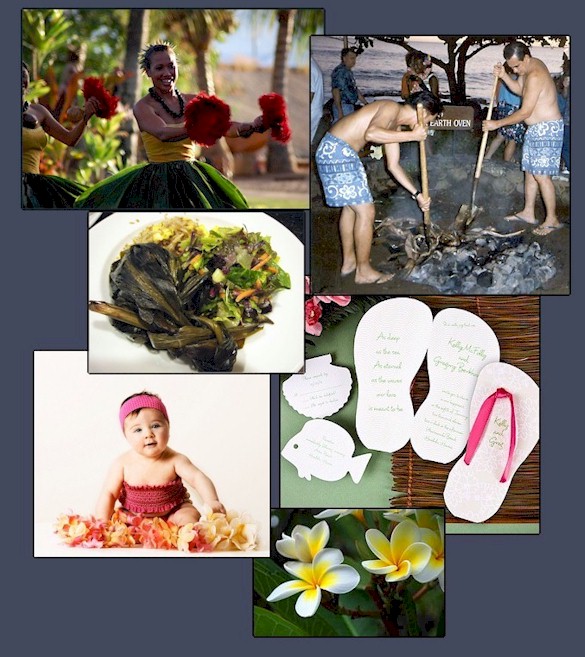 Incorporating elements of a Hawaiian luau at a first birthday party for your child is easy.

Guests will appreciate a feast of any kind and scale. Music can be supplied by ipod or from a CD of Hawaiian music. Encourage partygoers to dress in festive Hawaiian attire - aloha shirts, colorful dresses, or muumuus. There are abundant baby attire options online. What baby wouldn't look adorable in a miniature aloha shirt or tiny Hawaiian floral dress? The pictures and memories will be priceless! Don't have access to heliconia, ginger, or plumeria flowers? Use brightly colored locally offered alternatives with ferns or other tropical-looking greens. Your local florist will be sure to have some ideas. So, go ahead and bring a little aloha spirit to your festivities! Whatever you decide, baby's first birthday is sure to be special! Having family and friends together with good food and fun, you can't go wrong!

By Natasha
Natasha has been with Invitations4Less.com assisting stationery consumers with finding the invitation or announcement of their dreams since 2003.
When not working with our customers, Natasha enjoys traveling all the corners of the globe and moonlighting as an event planner with her friend and colleague.


---
Comments
Blog Index