Back to School - Already??
---
When I was growing up, summer was a delightful time of year. I have four younger siblings and we grew up on a farm in Iowa. We worked hard helping our parents out with chores, and when we could, we played just as hard. We'd spend hours chasing each other with buckets of water and doing anything else that we could dream of, as long as we didn't get into trouble.

But then the days would start to get shorter and August would roll around, and it was time to think of going back to school. Mom would always take us to town and buy us new clothes for the school year. I always enjoyed that part of going back to school so much. I still haven't outgrown my love for new clothes and shoes. Just ask my husband.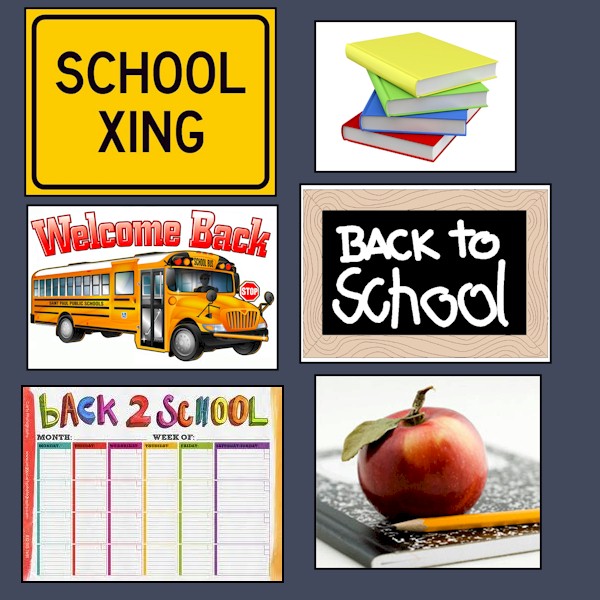 Well, here we are once again. August is upon us and the back-to-school ads have been flooding the newspaper and airwaves. This inspiration board highlights some familiar reminders of school.

As parents, we have to adjust our schedules along with our children and get into school mode once again. If you have a child that is entering school for the first time, this is probably going to be a stressful and emotional time for you. I think that holds true for almost every parent.

Very soon after that first day, you can expect that your child or children will come home with fundraising information. Yes, it's true. Schools depend on the extra income that fundraising provides for them.

I've enjoyed writing this and doing so has brought back some wonderful memories of my childhood. We'd love it if you'd share some of your back-to-school stories with us.

Check out our School Fundraising for Graduation Announcements!

By Jeanne Woodyard
Google+

Jeanne has worked in the printing industry for nearly 30 years and became the new owner of Invitations4Less.com on January 1, 2012.
When not working with our customers, Jeanne enjoys spending time with family and friends, RVing with her husband and spoiling her two kitties.


---
Comments
Blog Index