Trend Alert: 4 Trends To Incorporate Into Your Special Day!
---
If you're in the planning stages for an upcoming Bat or Bar Mitzvah, your head may be spinning with ideas while you try to sort through the logistics of timing, location and your guest list. Trends in the celebration industry seem to evolve as quickly as your child can empty your refrigerator, so to help you stay on track, here is a rundown of the latest trends in Bar and Bat Mitzvah party planning.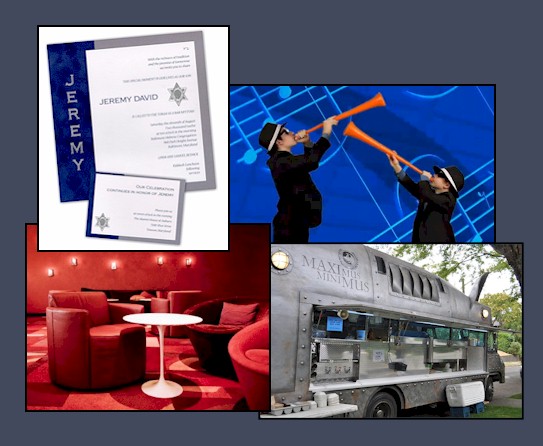 Personalize Everything!
After all the hard work, this is one day that your son or daughter can truly say is all about them. Almost everything can be personalized in some way from the obvious – highlighting your child's name on their invitations, to monogrammed favor boxes filled with M&M candies with his or her name in favorite colors, centerpieces that feature photos of the honoree and generous use of his or her name in the décor.

Mitzvah Videos!
Have you seen the video made by Zachary Freiman's father for his Bar Mitzvah? At last check, over 350,000 people had viewed it online.
Entrance videos made just for the mitzvah honoree are all the rage right now. And when they're fun and well-made, they get everyone talking, throughout the party and on into the future. A video presented at your reception will truly get the party started and keep the fun rolling all evening long.

Lounges!
Designate a corner of your reception site as the special teen zone. It'll be a big hit, especially if you stage it as a nightclub with special lighting, comfy couches with loads of pillows, and a snack bar stocked with plenty of cold drinks to cool off between dances. The young people will have a place to relax and enjoy the downtime. And even better, you'll be the coolest parent on the planet!

Gourmet Food Trucks!
The gourmet food truck trend is so hot right now, even the Food Network has made a show of it, The Great Food Truck Race. Catch the wave of this trend by surprising your guests on their way out the door with a food truck to send everyone home at the end of the evening with a little extra nosh for the road, or even a breakfast-in-a-box for the next morning!

By Joyce Buczek
Google+

Joyce Buczek was the founder and original owner of Invitations4Less.com in 1999. She continues working with Invitations4Less.com as a consultant and guest blogger. In her spare time, Joyce enjoys traveling, cooking and spending time with her family, including 2 spoiled cats.


---
Comments
Blog Index