Hoop It Up with a Basketball-themed Bar Mitzvah!
---
I was cruising Pinterest today looking at Bar Mitzvah ideas and found, no surprise, sports-themed Bar Mitzvahs are still going strong. With Basketball Season just ahead, it seems a great time to dunk into some inspiration for planning a Basketball Bar Mitzvah!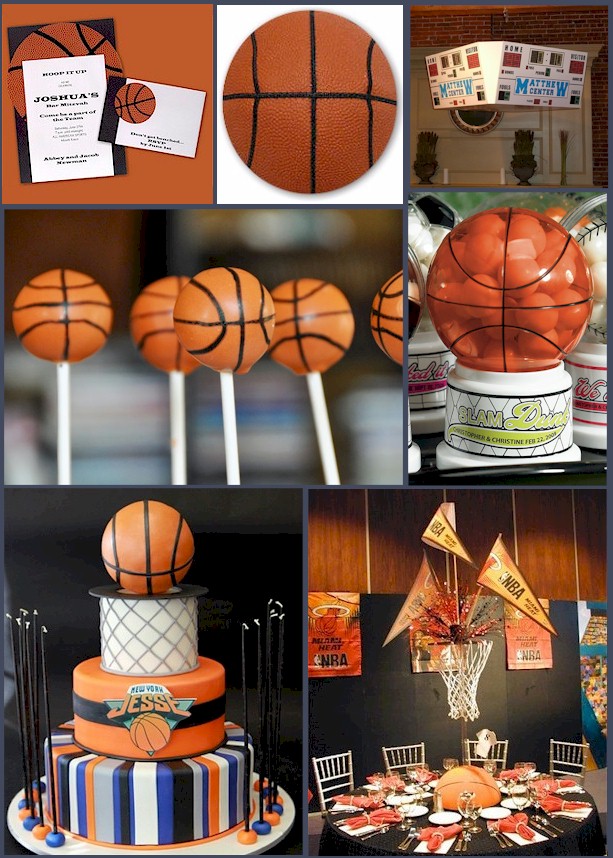 Invitations4Less.com offers a fabulous basketball Bar Mitzvah Invitation by Krepe-Kraft. We love the basketball-texture paper used in creating this unique invitation. There will be no question about what the theme of your event will be when your guests open their invitations!

Everyone gets in the spirit with basketball yarmulkes from MazelTops.com!

And what young man wouldnít thrill to the site of his very own scoreboard from The Prop Factory?

Sometimes the cake is just too pretty to eat. Thatís where Cake Pops come in handy! (OK, we know youíre going to eat the cake anyway, but cake pops, too? Bring it on!). These were decorated by Popolate in Syndey. Clever!

The mini gumball machines from Wedding Centerpieces Online make adorable favors, and the sticker can be customized for your event. Sweet!

We canít stop staring at this fabulous cake from Pink Cake Box! Seriously, makes me want to move to the east coast just so I can have them bake cakes for all future parties!

And in the category of "Why didnít I think of that?", a truly original centerpiece design by the Prop Factory brings elegance to a theme thatís pure fun.

Check out all our finds for basketball-themed Bar Mitzvahs on our Pinterest Board!

By Joyce Buczek
Google+

Joyce Buczek was the founder and original owner of Invitations4Less.com in 1999. She continues working with Invitations4Less.com as a consultant and guest blogger. In her spare time, Joyce enjoys traveling, cooking and spending time with her family, including 2 spoiled cats.


---
Comments
Blog Index