Babies All At Once!
---
Have you been seeing lots of twins and triplets lately? I've noticed the same trend, and it's because there are more and more parents having multiple births.

According to MOST (Mothers of SuperTwins), higher percentages of multiple births can be attributed to the age of the mother. Women in their thirties are more predisposed to conceive multiples naturally. Additionally, increased fertility treatments have resulted in higher birth rates for multiples.

I personally know three sets of triplets. It all started when my sister had her daughters almost 22 years ago. Through networking with parents of other multiples, she met another couple that shared the joy of having three children at once. I've since met them and their children. Just last year, our good friends Gary and Karen became grandparents of triplet boys.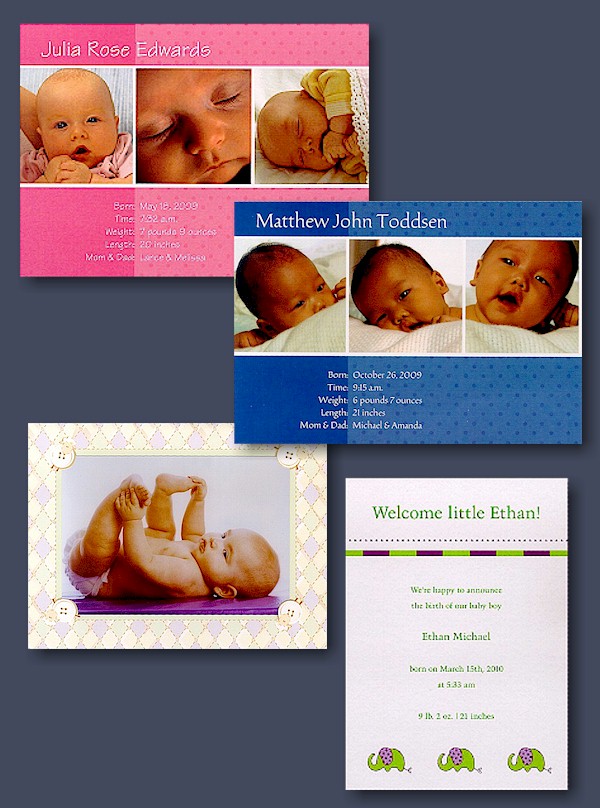 I've chosen some of my favorite birth announcements that are appropriate for multiples. I especially like announcements that include a photo of the duo or trio. After all, who doesn't enjoy seeing a photo of newborn babies?

Invitations4Less.com has a great selection of birth announcements to select from. Whether you are celebrating the birth of your first child, or the first of many, we'll be happy to assist you in choosing just the right announcement for your precious bundle (or bundles) of joy.

By Jeanne Woodyard
Google+

Jeanne has worked in the printing industry for nearly 30 years and became the new owner of Invitations4Less.com on January 1, 2012.
When not working with our customers, Jeanne enjoys spending time with family and friends, RVing with her husband and spoiling her two kitties.


---
Comments
Blog Index