Scoop: Breaking Dawn Wedding Invitation
---
Have you seen it? The Wedding Invitation of the Year? No, I'm not talking about the royal wedding invitation. We're so over that already!

No, this week it's all about the wedding invitation for the marriage of Bella and Edward in the upcoming cinematic spectacular, Breaking Dawn, part of the Twilight Saga series.



Eclipse and Breaking Dawn


MTV broke the story earlier this week with their exclusive peek at the invitation, which is a simple off-white card with lavender border and elegant ornamental rule design at top and bottom. Their wording is printed in one of the hottest colors in the stationery fashion palette, grey. The combination of lavender and grey on the soft off-white paper reads understated elegance, perfect for the timeless love shared by Bella and Edward.

While many are already speculating about the lack of parents' names on the invitation (does this signal that Bella's father disapproves of the wedding?) and exactly why the movie-makers decided to set the wedding in 2011 (instead of the expected 2008), we couldn't help but wonder how much of an influence the design choice will have on wedding invitation trends for 2011.

We also couldn't let this moment pass without offering up our interpretation of the invitation of the moment for all you Twi-hard fans out there who may be looking for the perfect marriage of your love of the Twilight series and the love you share with your own special someone!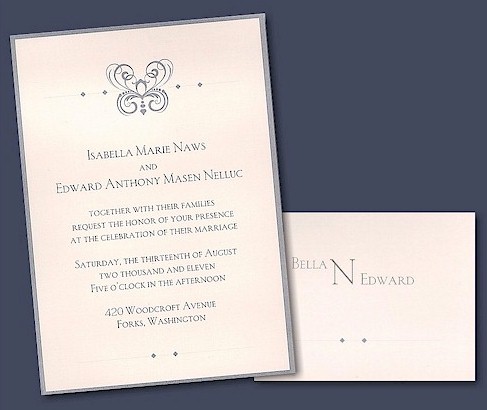 We had great fun choosing the paper, design and ink colors to recreate this invitation for you.

Would you choose your wedding invitations based on a great fictional romance? Where will you be, and will you be celebrating, on August 13, 2011?

By Joyce Buczek
Google+

Joyce Buczek was the founder and original owner of Invitations4Less.com in 1999. She continues working with Invitations4Less.com as a consultant and guest blogger. In her spare time, Joyce enjoys traveling, cooking and spending time with her family, including 2 spoiled cats.


---
Comments

Name: Jeanne
Location: Dubuque, Iowa
Location: Hi Angela, Thank you for your interest in Invitations4Less.com! Our version of the Breaking Dawn wedding invitation is gorgeous! Most orders take 2-3 business days to print and have ready for shipment. Please email us at customerservice@invitations4less.com if you need additional details and we'll be happy to assist you!

Name: emily
Location: ohio
Location: Hello, Can you still purchase these invitations?

Name: Jeanne
Location: Dubuque, Iowa
Location: Hi Emily and thank you for your interest in Invitations4Less.com! Yes, this invitation is still available for purchase. Simply click on the image of the invitation above and you'll be directed to the ordering wizard. If you have any questions, please feel free to contact us at 888.497.3581.

Blog Index