Guys Can Have Fun At Baby Showers, Too!
---
Coed baby showers are gaining popularity, but let's face it: most guys don't want to attend these parties that are traditionally known to be for women only. With a little planning and creativity, you can host a baby shower that guys will enjoy being a part of. We've put together some great tips to help you with your planning.

First, select a theme for your shower and then choose an appropriate baby shower invitation. We love these invitations which are styled as diapers: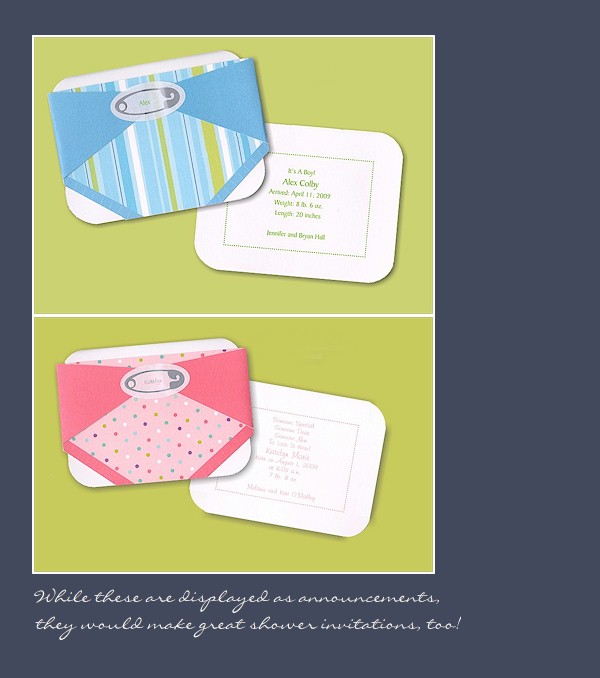 The decorations need to be kept simple and not too "cutesy" so the guys will feel comfortable. Keep the guys in mind when planning the games. Most guys are competitive, so anything that involves a contest of skills is a good bet.

Diaper Olympics is a great game to get all of the guys involved. For this game, you'll need cloth diapers, diaper pins, two infant-sized dolls, baby wipes, and powder. Divide the guests into two teams. Each member has to take the doll, rush to a table and change the diaper as quickly as possible. As soon as the diaper is changed, the guest will pass it to the next person in line. The team that completes all of the diaper changes in the shortest amount of time wins!

If you are able to, the Nascar Baby Stroller race should be conducted outside. You'll need a baby stroller with a doll placed in it and a stop-watch. Set up a race course with cones, flags or any other yard objects that you can think of. Show the guests the designated path and each guest will have a turn at racing the stroller through the race course. Record each guest's time and add one second to their time for any cones or flags that they hit. If the baby falls out of the stroller, the guest gets five seconds added to their time.

These games are sure to break the ice at any baby shower for couples. Guys may actually end up looking forward to the next one to attend!

By Jeanne Woodyard
Google+

Jeanne has worked in the printing industry for nearly 30 years and became the new owner of Invitations4Less.com on January 1, 2012.
When not working with our customers, Jeanne enjoys spending time with family and friends, RVing with her husband and spoiling her two kitties.


---
Comments
Blog Index