It's Ladies' Night! Sweet 16 Party Ideas
---
Oh yes it's Ladie's Night and the feelin's right, oh yes it's ladies night, oh what a night -
Queue up the music because it's time to celebrate with a Disco Sweet Sixteen party!

What could be more fun than dancing the night away with your favorite gal pals to celebrate your Sweet 16? With a little advance planning, you can turn a rented hall or your own garage into a disco palace and shake your booty all night long for just a song.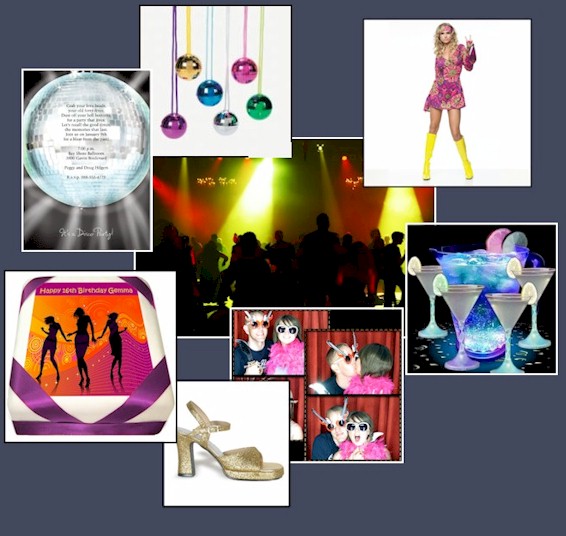 The primary idea of a Disco party is to shake your groove thang, so clear a space large enough for dancing for the number of guests you intend to invite. You won't want your dance floor to be too small (everybody bumping into each other = no fun) or too large (it will look like nobody's on the dance floor). Figure on approximately 4 - 4.5 square feet per dancing guest.

A disco is not a disco without the proper lighting. That will be your next priority. Look for strobe lights, black lights, and lasers. If you're using a black light, make sure it's the flourescent variety (tube-style). Incandescent black lights (traditional light-bulb shape) are only good for color. They will not make your neon decor pop like a flourescent black light bulb will. Check your local rental center before shopping retail. If you're unable to obtain everything you need through rental, home improvement centers and party and gift stores in the mall are always a good bet for black lights, disco balls and strobe lights.

Now for the music - disco all the way! A DJ is great for entertainment value, but if you're trying to save room in your budget for all the food and decor, you can burn the music you want on CDs and play them throughout the evening. Make sure you know what is the last song on the disc so you can be ready to switch out to the next one before the music stops. Nothing kills a good party faster than dead silence. Ask a friend to switch out the disc for you while you make a quick announcement reminding everyone about the food or play a quick party game.

You'll all be working up an appetite with all that dancing, so make sure and provide plenty of snacks and drinks. Food should be finger foods that can be grabbed and quickly consumed. Providing a balance between high-protein foods and typical snack foods is always a good idea when there is a lot of activity going on to make sure everyone keeps up their energy. Drinks can be served in cool light-up neon glass-ware for an extra fun touch.

Of course, you want everyone on the dance floor, but providing a hip place to relax and chill for a bit is always a good idea. Try to position your food near your lounge area with comfy chairs, lots of pillows and, of course, cocktail tables so your guests have a place to set their drinks while they nosh and relax for a bit. This is the area to have fun with your black light as anything white or neon-colored will glow and it's more mellow than a strobe or lasers dancing about.

For your Sweet 16 Invitations, check out our selection at Invitations4Less.com.
Other options shown:
Disco Ball Pendants: Oriental Trading Co. (online: www.orientaltrading.com)
Disco Costume: Windy City Novelties (online: www.WindyCityNovelties.com)
Light-Up Cocktail Glassware: Kaboodle (online: www.kaboodle.com)
Photo Booth Images: Time Of Your Life Photo Booths (online: www.timeofyourlifephotobooths.com)
Disco Shoes: Import Costumes (online: www.importcostumes.com)
Cake: CakesNextDay.com (online: www.cakesnextday.com)

By Joyce Buczek
Google+

Joyce Buczek was the founder and original owner of Invitations4Less.com in 1999. She continues working with Invitations4Less.com as a consultant and guest blogger. In her spare time, Joyce enjoys traveling, cooking and spending time with her family, including 2 spoiled cats.


---
Comments
Blog Index