Day of the Dead Wedding
---
The air is turning crisp; the leaves are turning bright and the official first day of Autumn has passed. Ah yes, it's time to celebrate the completion of another circle of life cycle.

Readers will be familiar with the celebration of Halloween, an ever-increasingly popular American holiday; but how many of you know and celebrate El Dia De Los Muertos? Observed on November 1st & 2nd every year in Spanish-speaking countries (particularly Mexico), as well as, in some form or another, many other cultures, El Dia De Los Muertos has become an American phenomenon in its own right and has inspired many a starry-eyed young couple to say "'till death do us part" in a most colorful and culturally-rich way.

Unlike Halloween, el Dia de los Muertos is not intended to be frightening or spooky, but rather a celebration of life and an honoring of the dead. Dearly departed family, friends and loved ones of all relations are observed in tribute with shrines at home including altars set up with favorite foods and personal items intended to please and entice the dead relatives to visit. Day-long visits to the cemetery including picnics and the reading of light-hearted poems about the deceased are also common to the celebration.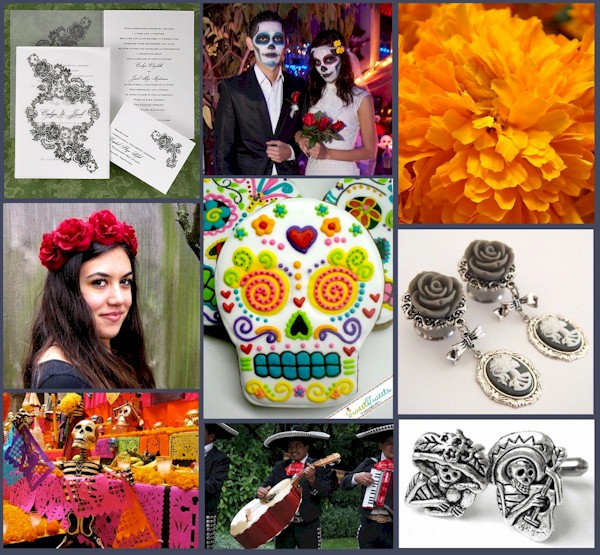 A Day of the Dead wedding wouldn't be complete without face paint which can be as simple or as elaborate as you like. Check out the tutorials on our Dia de los Muertos board on Pinterest!

I love the lace motif of the translucent wrap wedding invitation for its subtle Mexican influence and the black floral design, perfect for an elegant DOTD wedding!

While deep red roses are very common in Day of the Dead celebrations (and we can't think of a better way to incorporate them in your nuptials than to wear a crown of roses on your wedding day!), cempasúchil, or Mexican Marigolds, are the traditional flor de muerto and definitely deserve a place at your wedding (hello inexpensive centerpieces!).

Skulls are a design element synonymous with Day of the Dead celebrations and I am completely in love with the whimsical sugar skull cookies baked by etsy seller SweetTreatsOnline. Who wouldn't be tickled by finding this colorful cookie favor at their table at the reception?

Papel Picado banners are a common décor element at Mexican weddings and Dia de los Muertos celebrations. Colorful banners keep the celebration lively and cheerful.

Mariachi music ensures your ceremony and reception remain in a festive mood and offers a nod to the Mexican culture from which you are borrowing.

And while there are many options for accessorizing your look, I fell for the skeleton cameo and grey rose earrings I found on etsy. They keep to the theme without sacrificing elegance for the bride. And for the groom? I think the mariachi skeleton cufflinks are a hoot! Remember, it's the little details that carry a wedding theme from failed to fabulous!

While DOTD weddings are an emerging trend, I had no problem finding more than enough inspiration online! Visit our Pinterest Board for even more great options to carry you through your Day of the Dead!

By Joyce Buczek
Google+

Joyce Buczek was the founder and original owner of Invitations4Less.com in 1999. She continues working with Invitations4Less.com as a consultant and guest blogger. In her spare time, Joyce enjoys traveling, cooking and spending time with her family, including 2 spoiled cats.


---
Comments
Blog Index