And The Winner Is. . .
---
Congratulations to the winner of our facebook contest, Cindy Wales-Murphy!

Cindy has won a PhotoBox card holder which can be used at any event by personalizing it with her own photos, so it can be used multiple times and always be unique to her event!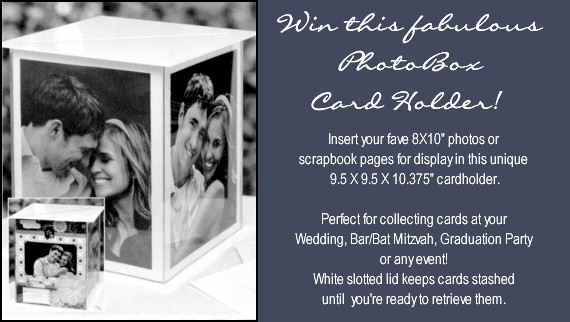 We thank everyone who participated in the contest by offering their feedback on the new 20Thirteen Album prototype from Carlson Craft! Your feedback has been shared and will be taken into account as the final album is pulled together for publication this winter. Keep an eye open here for all those great new invitations to be available at Invitations4Less.com!

If you haven't yet had a peek at the invitations, please do so now! Even though our contest is closed, we still welcome your feedback!

By Joyce Buczek
Google+

Joyce Buczek was the founder and original owner of Invitations4Less.com in 1999. She continues working with Invitations4Less.com as a consultant and guest blogger. In her spare time, Joyce enjoys traveling, cooking and spending time with her family, including 2 spoiled cats.


---
Comments
Blog Index