Fall Into the Moment: Festive Autumn Wedding Invitations
---
As autumn approaches, many people around the nation find themselves welcoming the cooler temperatures and fall festivities. Apple orchards, football games, campfires, raking leaves, cool evening walks….the list of fun goes on and on. And There's no better way to celebrate the new season than with affordable and festive Autumn-themed wedding invitations.

Truly Tree-ific
The Wedding Tree Invitation puts the autumn theme front and center. Tasteful shimmer, artful text arrangement, and foil-stamped leaves create a magnificent display.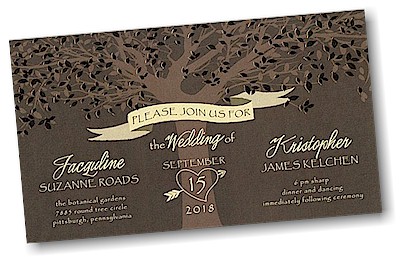 A towering, majestic tree creates an air of natural elegance on this earthy wedding invitation.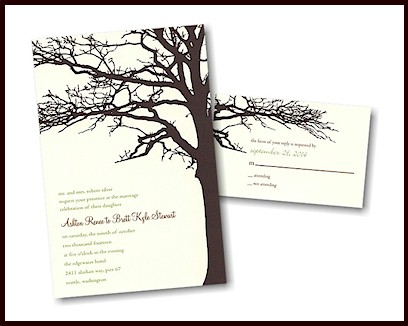 Worthy Wreaths
Wreaths are the new "it" thing, so why not make one the star of your elegant autumn celebration? Make this invitation your own by choosing your monogram to accent the beautiful golden foil oak leaf wreath.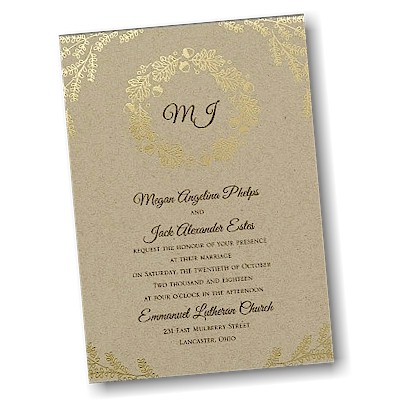 Keep things light and airy with this translucent wreath wrapped invitation. Bright fall colors along with elegant details set the stage for the perfect autumn atmosphere.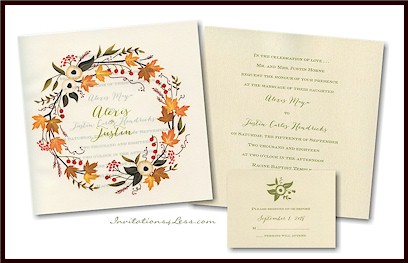 Leaves, Leaves, Leaves
A bit of natural mixed with a hint of glam equals just enough wow factor for your wedding celebration. Customizable ink color allows you to coordinate your theme colors as well.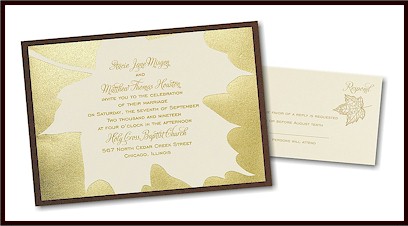 If you're looking to impress, the Elegant Leaves Wedding Invitation is a great choice. Asymmetrical cuts and a pearl embossed design offer just enough variation to stand out, and the beautiful satin bow wraps the display into perfection.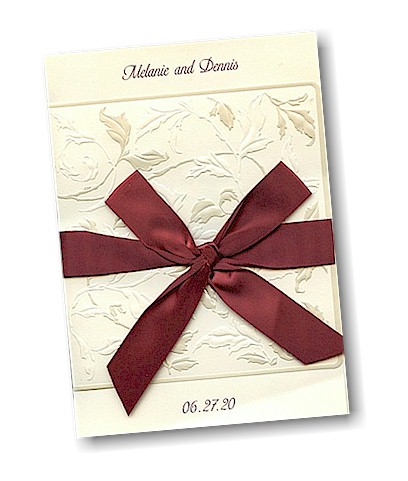 Bouquets of absolute beauty shine in this autumn themed wedding invitation, which can seamlessly complement a wide range of autumn wedding themes.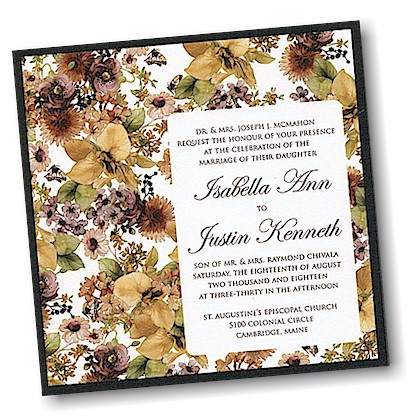 A unique arrangement of foliage and shimmery mocha make the Autumn Brilliance Invitation a beautiful sight.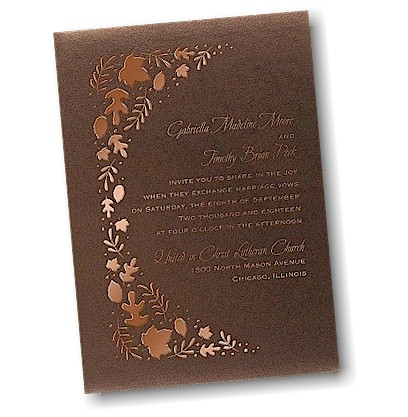 This detailed autumn wedding invitation features a beautiful oak leaf atop an elegant cream base. When paired with the rustic woodgrain pattern on the backside, this invitation is simply stunning.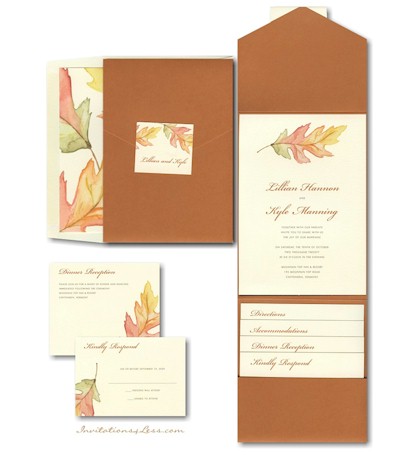 Affordable and Stylish Wedding Invitations
Like what you see? There's many more where these came from! Invitations4Less not only offers beautiful autumn-themed wedding invitations ---- it offers invitations for all themes, colors, and seasons. Shop our entire collection of wedding invitations.

By Abby Teunissen
Abby is passionate about embracing diversity, fostering learning, and supporting rural communities. She lives with her husband and daughter on a grain and cattle farm near a small town in Northwest Iowa. When she's not whipping up blog posts or plugging away on other digital marketing projects, Abby enjoys spending quality time with her family, tending to her garden while soaking up all the Vitamin D she can get, helping her husband around the farm, and patiently awaiting her long overdue letter from Hogwarts.


---
Comments
Blog Index