Coming of Age In Style
---
Becoming Bar or Bat Mitzvah means many things: It's a time of recognition amongst peers and the community, accepting responsibility for one's own role in the faith and for many, a celebration following a lengthy period of intense religious education.

In modern times, this passage does not occur without a certain amount of fanfare and celebrations may range from a simple meal shared with the congregation after Shabbat services to a party rivaling a celebrity wedding. Fortunately, the options for announcing your event with invitations for your guests are as varied as the celebrations themselves.

This week, Caron Stanley shares with us her top choices for Bar and Bat Mitzvah Invitations from the collection available from Invitations4Less.com.




City Of Joy Bar Mitzvah Invitation
Bring a taste of the Holy Land to your celebration with this beautiful two-layer card with a laser-cut Jerusalem cityscape design. This invitation is made in Israel, a special way to show your guests your support for the holy land!





Adorable Aqua Bat Mitzvah Invitation
This newer invitation is one of my favorites with its popular color, scalloped edging and snazzy accent ribbon.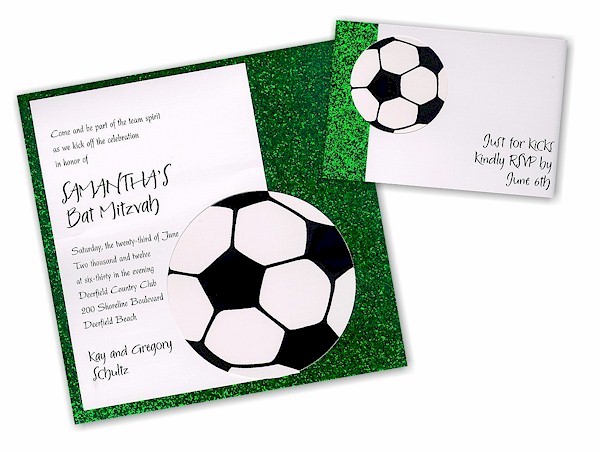 For Kicks Invitation
Your soccer fan will love this fun sports-themed invitation!






Cascade Bat Mitzvah Invitation
A cascade of shimmery foil curlicues on a semi-gloss stock - fantastic!





Golden City Bar Mitzvah Invitation
Check out the full Hebrew translation on this classic creamy card. This service is available on any of our invitations.





Petit Fleurs Bat Mitzvah Invitation
The delicate flowers at the bottom highlight this elegant letterpress invitation.





Jeweled City Invitation
I love the deep hunter green in the design of this eye-catching invitation!





Watercolor Jerusalem Bar/Bat Mitzvah Invitation
The bold colors and design of this affordable invitation set the tone for your important day.





Layered In Tradition Bar Mitzvah Invitation
The asymmetrical layering of this invitation, along with the bold red middle layer, make it a standout in the crowd. This invitation may also be adapted with a variety of color options to be suitable for either a girl or a boy.





Natural Wrap Recycled Paper Bar Mitzvah Invitation
Beautiful, earthy, elegant AND recycled! What's not to love?





Vibrant Beauty Bat Mitzvah Invitation
Wow, this bright and fun invitation features asymmetrical layering and glimpses of pink, green and yellow! Ask about alternate color options for this eye-catching invitation.





Regal Bar Mitzvah Invitation
A classic favorite with a bold blue border and gold foil accents for your milestone day.





Star Streamers Bat Mitzvah Invitation
One of my favorites, with a colorful shooting star motif, has been a customer favorite too!





Star Of David Bar Mitzvah Invitation
This colorful and affordable invitation has been a mainstay on our site.





Renewal Bat Mitzvah Invitation
I love the shimmer stock and the colors of the Star of David and flowers in this feminine invitation!




By Caron
Caron has been assisting customers to announce and invite guests to their important life events since 2000.
In her hours away from Invitations4Less.com, Caron enjoys relaxing at home with her two children and two cats and spending time with friends.


---
Comments
Blog Index