My Favorite Mitzvahs
---
I wanted to showcase two of my very favorite Bar Mitzvah Invitations that have a very unique way of arranging the Bar Mitzvah's name on the front of the invitation(s). The Distinctly Personal Bar Mitzvah Invitation comes 6 Ľ" squared and has a very exclusive way of displaying the Bar Mitzvah's name which includes both his Hebrew and English name split on each side of the tri-fold cover. It's arranged with a silver Magen David appliqué centered over each of the edges on the front. This invitation is featured on a navy/white Duplex tri-fold layered over a silver back card. What a fantastic way to honor your son on his special day.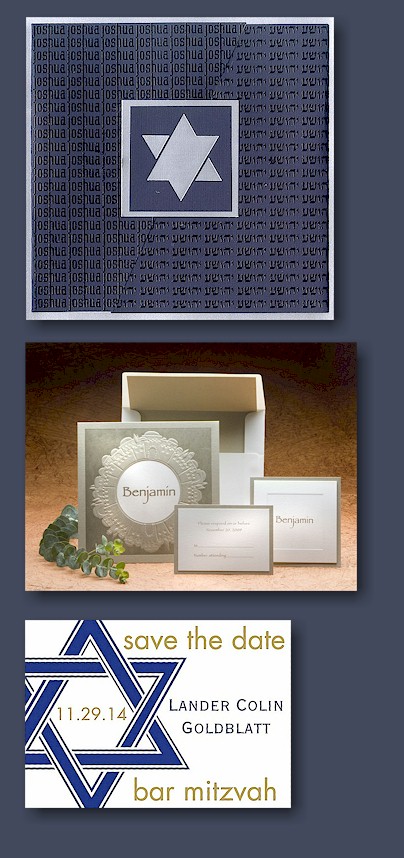 My second favorite Bar Mitzvah Invitation is In the Holy Land Bar Mitzvah Invitation this 7" squared invitation is made from a metallic cream invitation card that is layered into a metallic gold folder featuring an embossed city of Jerusalem design that circles around the Bar Mitzvah's name that is displayed in the center. This invitation is made on nice heavy-duty card stock and is just stunning to the viewer's eye. As an added bonus, this invitation is manufactured in Israel!

Lastly, I thought this save the date magnet was too cute to pass up for either of these invitations the 4 7/8"W by 3/12" magnet card features a Sapphire Star of David design off to the left that features the date of the event. The sapphire and sandstone colors on this magnet would be a nice taste of what's to come with either of the invitations shown above.

By Anne
Anne has been with Invitations4Less.com since 2004 and came to us already knowledgeable about social stationery after previous employment with a wholesale printing firm.
Anne is mom to two young children who keep her busy and dreaming of sleep. But she wouldn't have it any other way!


---
Comments
Blog Index