Make it Fun - Make it Your Own!
---
Heading into the summer means heading into celebrations. We have all been to weddings, birthday parties, christenings that are lovely but are all interchangeable. So what do you do when it is your turn to host an event? How can you make your baptism, anniversary, or even 4th of July party something memorable? We have the answer! And we think you are going to love it!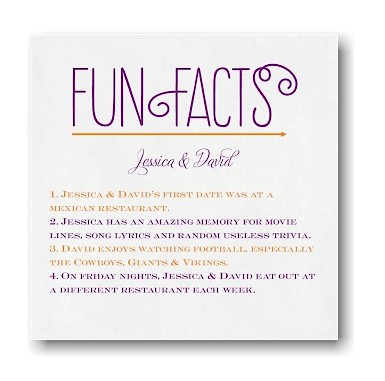 No matter the occasion you will need napkins. Having names and date printed on them is lovely but how much fun is this? Add a bit of play to your paper with these Fun Facts Napkins. Whether it is the bride's favorite food (beets), the bar-b-que chef's guilty TV pleasure (Gilmore Girls), or the bar mitzvah boy's first word (coffee); set the smile-bar high and test your guests with Fun Fact Napkins!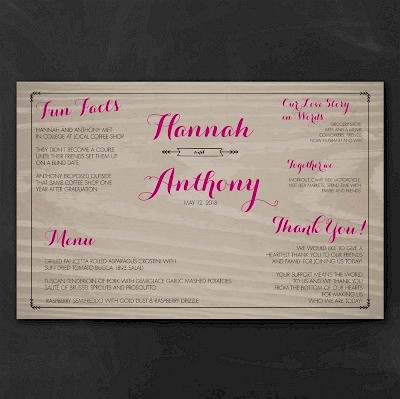 Another terrific way to add personalization to your festivities is with this, Wood You Like To Know? Placemat. Terrific for outdoor weddings, backyard graduation parties, and anniversary bar-b-ques the placemat background is in a wood pattern ready for your tailored touch. There is ample space to reprint a few lines from the grad's favorite song, or tell your guests where your parents met 50 years ago. Wood You Like To Know? Placemats are quite a treat!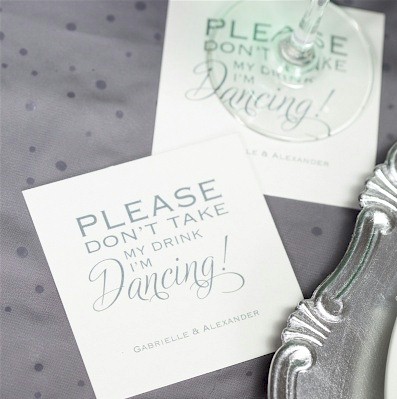 Our final word on fun is about these great drink coasters. Keep over-eager wait staff and hosts from accidentally dumping the drinks with the definitive message on mixing it up on the dance floor. These coasters will let your guests cut-the-rug and keep your cocktail costs a little lower because their potable is protected. So have fun! We have loads of options on our Party site to make your next festivity better than ever!!

By Lynn Olejniczak
Lynn Olejniczak is a writer and researcher who lives in and loves Chicago. A mother of two, she claims if she had three hands she would be wishing for a fourth.


---
Comments

Name: Luann Weber
Location: LaMotte, IA
Location: Love this blog. Especially the funfact napkins, placemats, and drink coasters! A neat idea! Would bring fun and laughter to a party!

Blog Index