Graduation 101: Best of Class (Part 2)
---
In last week's blog, we shared some good-to-know information about graduation announcements and do's and don'ts for attending the commencement ceremony. This week, we'll start out by discussing the fun topics of graduation parties and gifts.

When planning the party, the host and graduate should collaborate together about the graduate's wishes, the guest list, and costs involved. While the party is about the graduate, it's important to remember not to burden the host to such a degree that the party is more of a chore than a celebration.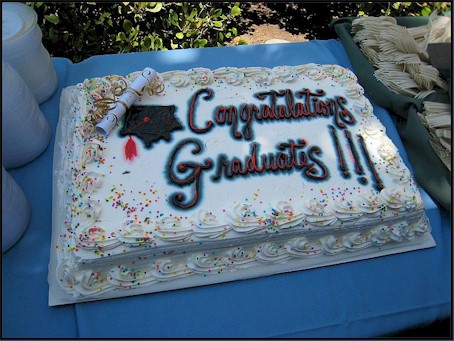 Invitations to a graduation party should be mailed 4-6 weeks in advance. Important information to include on the invitation should not only include the date, time, and place, but should indicate if food and/or drinks will be provided. Include a map with your invitation for out-of-towners as well as hotel suggestions.

Even though the party is in honor of the graduate, he or she should take into consideration that many relatives and friends have gathered to share in their accolades. While it's acceptable to spend time with friends, it is equally important to spend time with all of your guests. Be sure to thank them for coming!

Sending an announcement does not automatically guarantee that the graduate will receive a gift from the recipient. However, party attendees should bring a gift. Listing gift suggestions on your invitations is taboo; instead, guests may seek out ideas when they RSVP.

If you've received an invitation to a graduation party and don't know what an appropriate gift is, we've compiled a short list of ideas.
Cash is always appreciated, but may seem impersonal to some gift-givers.
If the graduate is going to college in the fall, you may give something that he or she may use in their dorm.
If a job is on the horizon, a nice engraved pen set or business card holder would make a thoughtful gift.
Still not sure? A piece of luggage or a monogrammed computer case are two more great ideas.

Graduates are expected to acknowledge each gift by promptly sending a hand-written thank you card. Emails or text messages are inappropriate for expressing gratitude. As a graduate, developing the habit of writing thank you notes will get you far in life. You'll need to do it for other situations, such as after an important job interview. The more you do it, the easier it will become!

In my final tip to graduates, revel in this special time of your life and do not take it for granted. Let your family and friends celebrate your accomplishments, even if all the pomp and circumstance makes you a bit uncomfortable.

By Jeanne Woodyard
Google+

Jeanne has worked in the printing industry for nearly 30 years and became the new owner of Invitations4Less.com on January 1, 2012.
When not working with our customers, Jeanne enjoys spending time with family and friends, RVing with her husband and spoiling her two kitties.


---
Comments
Blog Index