Memories Are Made Of This…
---
Graduation parties can be as simple as celebrating with a few friends and family members, or as elaborate, and costly, as a full-scale wedding.

Parents who might not be willing, or able, to spend on costly items for themselves may think nothing about shelling out big bucks when it comes to their children, even if doing so creates a hardship. With shows like My Sweet Sixteen it's not surprising that some teens, and parents, can have sky-high expectations. However, keeping things simple and inexpensive doesn't have to mean, or look, cheap. Photographs can make a huge impact and will create memories that will last forever, from graduation announcements to memory books.

Let's face it; some standard graduation announcements can be generic and downright boring. An easy way to personalize a graduation announcement is to use one that incorporates photos of the graduate.

Popular choices include those that allow for multiple photos-baby photos on up to senior pics. Recipients will enjoy "remembering when."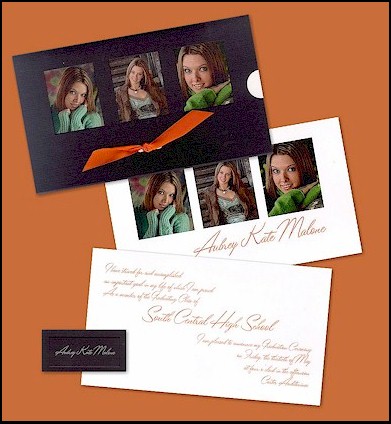 This beautiful Transitions announcement is a great option. Various ink colors and ribbon colors are available to suit the graduate's taste.

Photos can be incorporated into the celebration as well. Snap photos of your guests as they arrive and include them in a special keepsake album for the graduate. Photos can be taken with an instant camera, a digital camera with portable printer, or developed later. Have 4 x 6 cards on hand so that guests can jot down a personal message to the graduate. If desired, include pre-printed text prompts to assist your guests, such as:
"Things I know now that I wish I'd known then…"
"Advice to the graduate…"

Then insert the completed card next to the guest's photo in the album. 4 x 6 photo albums with space for 2 photos per page work great for this.

Personalize the party décor with more photos of the graduate. Decorate with framed photos of the graduate, play a photo slideshow, or make a photo board with photos showcasing the graduate's hobbies, sports memorabilia, award ribbons, etc.

When choosing a gift, consider a custom photo book. Companies like Kodak and Snapfish offer lots of fun options in many styles, colors and backgrounds, from a small paperback version, to a large coffee table book. It's easy to include photos of family, photos from friends, personal messages, special quotes, songs, or whatever you find meaningful. The graduate will enjoy the trip down memory lane, a trip that can be taken over and over again!

Personal touches can go a long way and will make the graduate feel special and honored. The focus of a graduation party is of course, the graduate! You need not spend a fortune to enjoy celebrating this important milestone with family and friends.

By Natasha
Natasha has been with Invitations4Less.com assisting stationery consumers with finding the invitation or announcement of their dreams since 2003.
When not working with our customers, Natasha enjoys traveling all the corners of the globe and moonlighting as an event planner with her friend and colleague.


---
Comments
Blog Index