A Hippie Chic Bat Mitzvah
---
They're here. There there. They're everywhere!

You can't walk through your local mall, or your local city park for that matter, without seeing peace symbols these days and it seems just about every 'tween girl has a shirt, bag or shoes in rotation with this very fun and fashionable statement. Given the symbolism, it's no surprise that the peace symbol has also become a popular Bat Mitzvah theme!

Here's a little inspiration for your very own "hippie chic" / peace symbol / tie-dye Bat Mitzvah celebration.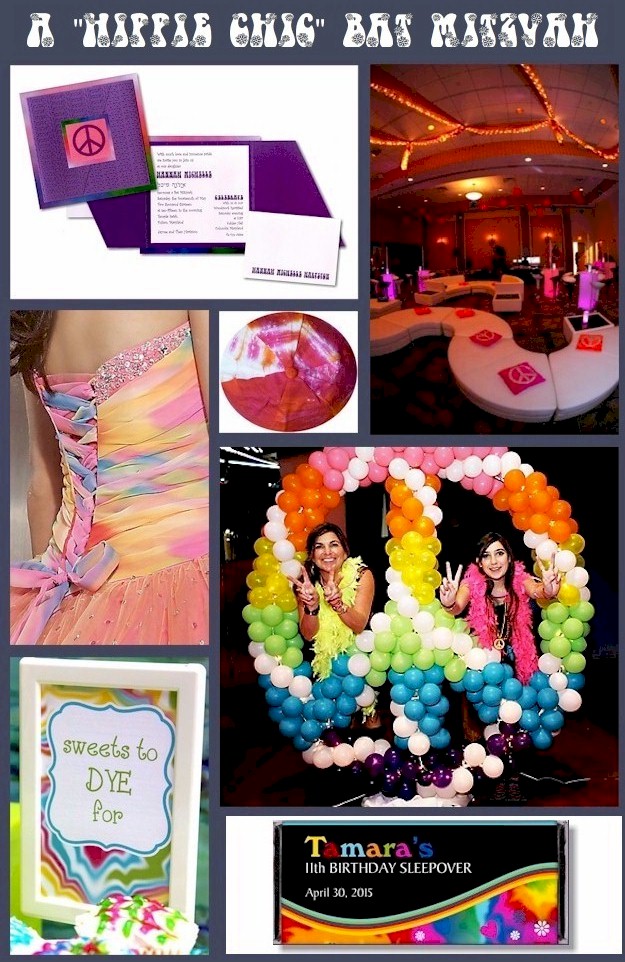 Clockwise from upper left:

- Hippie Chic Bat Mitzvah Invitation: Invitations4Less.com
- Peace-ful Lounge Seating: Image courtesy Mitzvah Market
- Peace Symbol Balloon Sculpture: Image courtesy Jessica Claire Photography
- Candy Bar Wrapper: Bunny Prints
- Sweets to Dye For sign: Celebrations.com
- Tie-Dye Gown: Morilee
- Tie-Dye Yarmulke: Mazel Tops

By Joyce Buczek
Google+

Joyce Buczek was the founder and original owner of Invitations4Less.com in 1999. She continues working with Invitations4Less.com as a consultant and guest blogger. In her spare time, Joyce enjoys traveling, cooking and spending time with her family, including 2 spoiled cats.


---
Comments
Blog Index