Thinking Ahead To Holiday Cards
---
With the Holidays just passed it's probably hard to think about what you want to do next year for your Holiday cards. If you are anything like me, waiting until the last minute is what I'm best at. But not anymore! I've made it my New Year's Resolution to not wait until the last minute.

There are so many different themed Holiday cards to choose from and most offer free printed return address on the back flap if ordered before October 1st. With two young kids it's one more thing that is added to my list at the end of the year on top of everything else. I typically have a hard time because most want to see photos of the kids and over a year they can change so much so ordering early was never really an option for me. Now they have widened the selection of photo holiday cards for you to input your own photo like this one: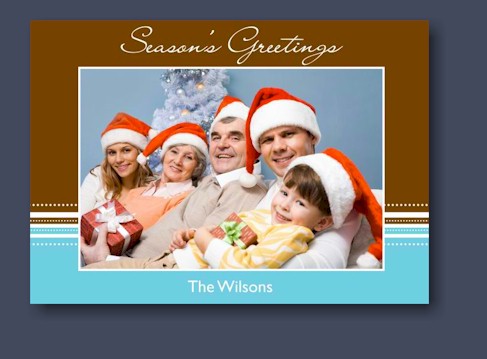 which makes it easy to order ahead of time and take advantage of the special offers. You can even pre-address your envelopes and have one more thing crossed off your list during a busy time of year.

In addition to traditional Holiday cards, Invitations4Less.com also offers Thanksgiving Cards as an alternative sure to capture the attention and not be lost amongst a sea of other cards being received in December.

Please stay tuned and fan us on our Facebook page for special offers and additional discounts available on Holiday cards. Make your holidays less stressful by thinking ahead this year. I sure know I will be!

By Anne
Anne has been with Invitations4Less.com since 2004 and came to us already knowledgeable about social stationery after previous employment with a wholesale printing firm.
Anne is mom to two young children who keep her busy and dreaming of sleep. But she wouldn't have it any other way!


---
Comments

Name: Marie
Location: Tampa, FL
Location: You are right, it's hard to think of holiday cards right now. But you are right, getting them taken care of now will reduce stress during the busy holiday season!

Name: Joyce
Location: Invitations4Less.com
Location: Watch for a whole new crop of cards coming in the next couple of months! And, of course, we'll keep everyone posted on the early bird specials.

Blog Index