An Extra Special Surprise!
---
Imagine the shock that my sister and her husband experienced twenty-one years ago when they went in for a routine ultrasound and found out they were having triplets! I'll never forget when she called me to tell me the news. I thought she might say they were having twins, but no, triplets it was!

This news began months of preparations for the new members of our family. As with most pregnancies of multiples, we didn't know what the future would hold. As my sister spent several months on bed rest and eventually in the hospital, those of us close to her obtained items needed in sets of threes: basinets, car seats, high chairs…and more.

My sister and her husband opted not to learn the sex of the babies, so we'd all have to wait to find out what they were having. Would it be three girls, three boys, or a mix? Only time would tell!

Two months before their due date, on April 14, 1990, Ellen, Emily, and Katie were born at 9:56, 9:58, and 10:00 p.m. respectively. All were between three and four pounds, and were healthy as far as preemies go. What a blessing indeed! I remember seeing them for the first time: they were so small and fragile but beautiful just the same.

The girls were the first grandchildren on both sides and multiples do not run in the family, so it was a joyous time. Because I worked for a major printing company at the time, I went in to action and purchased triplet birth announcements to send out on behalf of my sister and her husband. Family and friends loved receiving them and looking at the photos that were enclosed.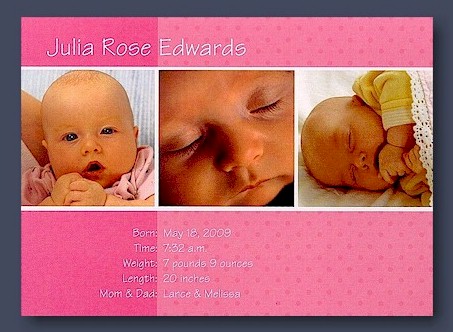 &nbsp&nbsp&nbsp&nbsp&nbsp Wouldn't this be the most adorable birth announcement for triplets?

As the identical girls approach their 21st birthday, it's hard to believe how fast the years have gone by. They are juniors in college and spend their free time helping their parents on their horse farm and enjoy participating in rodeos all over the country.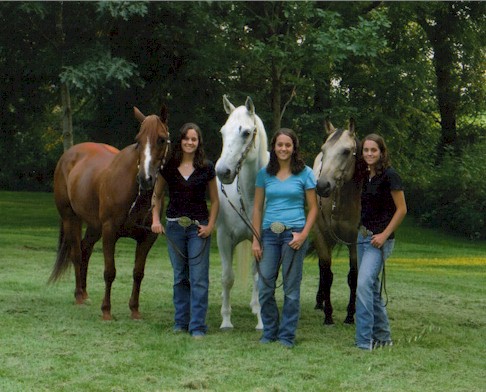 By Jeanne Woodyard
Google+

Jeanne has worked in the printing industry for nearly 30 years and became the new owner of Invitations4Less.com on January 1, 2012.
When not working with our customers, Jeanne enjoys spending time with family and friends, RVing with her husband and spoiling her two kitties.


---
Comments

Name: Luann Weber
Location: LaMotte, IA
Location: I am the Grandma of Ellen, Emily and Katie. The triplets were a welcoming joy and brought great happiness and fun to our family. Hard to believe they are almost 21. Where did the years go? Invitations4Less.com have really beautiful invitations. Any one celebrating 50 years of marriage should check out their "Now and Then" invitations. This is a wonderful company to purchase your invitaions from!

Blog Index