Inexpensive, But Nice, Wedding Favors
---
When planning a wedding, every bit of it has to be thought out. It is even more so if it is on a tight budget. Everything associated with a wedding is so incredibly expensive that it is easy to lose track of things. Because of this, it is quite important to be able to find ways to cut corners when planning one. Of course there are things that are hard to do this on like a banquet hall or the photographer, but there are other things that it just might work.

One such area, where you can cut corners on, are the wedding favors. If you do enough research and plan it wisely, you can easily find some inexpensive yet nice wedding favors. One thing to keep in mind when planning your wedding favors is to keep your guests in mind. People quite often tend to leave behind the little trinket boxes or glass figurines. These are also the ones that tend to be rather expensive. So, it is a good idea to avoid those. Instead you really might want to consider doing something edible. You can do things like truffles or fancy cookies. You can purchase some nice boxes to put them in and add a ribbon and it will look quite elegant.

You do not have to put too many in since it is the gesture that counts. If you do not have the time for this, you could possibly set up a little candy buffet. You can use containers for different types of candy from things you or other family members have at home. Then all you would need to purchase would be different types of candies as well as some type of box or bag where people can put the candies in. Another thing you can do is to get those little bottles of wine or champagne. Sometimes you can catch them on sale. You can make the labels on your own at home reflecting that this was from your wedding.

If giving away something edible is not quite your thing, or you know that your guests would not quite appreciate it as a wedding favor, then you might want to possibly consider getting something like a bamboo plant. You can easily find some inexpensive ones at various places. If you have access to a China Town, this might be your best bet. The nice thing about bamboo plants is that they represent luck and this would be a nice way to tie it into your wedding.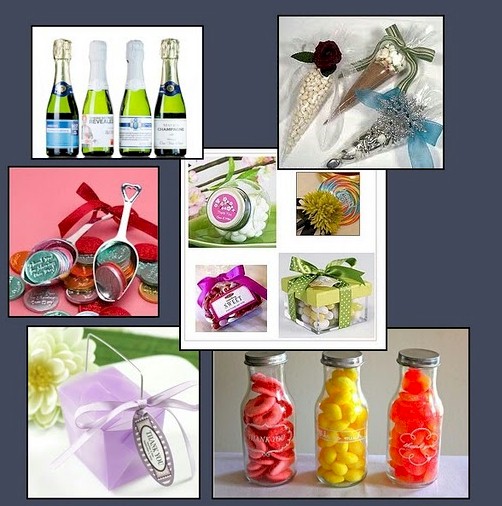 You can also possibly try making some wedding favors yourself. An option of one is to make a compilation of your favorite music or music that you will be playing at the wedding. Finally, if you can not think of anything else, you can make a donation to your favorite charity. You can lave a very nice thank you note on each place setting and state that in lieu of wedding favors you have made a donation. This way you can set a specific dollar amount that is affordable to you and go with that. Everyone should be quite understanding of this and should think of this as a very lovely gesture.

So as you can see, there is no need to worry if you are on a budget. You can definitely save some money by going with inexpensive yet nice wedding favors.

Hope you like the article on wedding favors. The author of this article writes regularly on topics related to wedding including wedding speeches, wedding gifts, wedding photography etc. You can also visit his site BestManSpeechInsight.com for articles related to best man speeches and toasts.

Photos courtesy of:
Wine bottles: euromarquewines.co.uk
Favor bags: allaboutweddings.us
Scoop: lasvegas-weddingfavors.com
Center: weddingcardsplease.com
Boxes: stylehive.com
Jars: bloglovin.com

By Guest Blogger



---
Comments
Blog Index