FAN-dan-Go!!
---
You picked the date, you picked the setting, you picked your outfit but you can't pick the weather. Summer is hot. Sometimes Fall and Spring aren't so mild either but we have some answers to the question, How hot is it?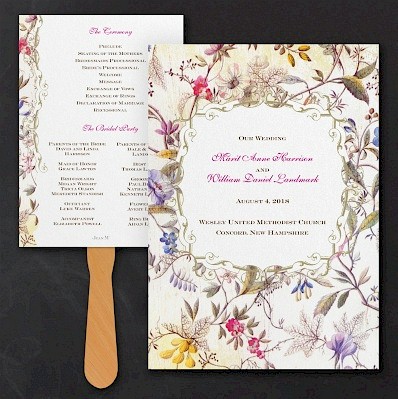 Fans for all! This vintage Program Fan has a pretty spray of flowers surrounding your schedule. You are able to choose your paper color and you can have it printed on both sides. So whether it is a garden party, a baby shower, or a sweet Sweet 16 party, this floral Program Fan is a great accessory.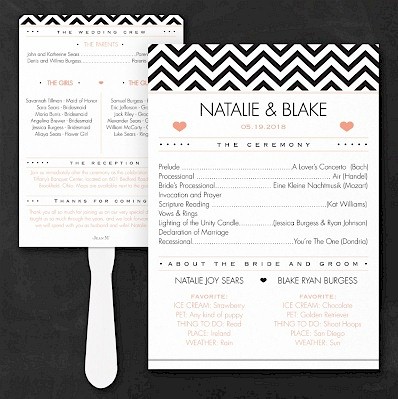 For a look that is more modern. This Program Fan has a sophisticated chevron pattern to accent all of the ceremony details. Of course your pick of paper is allowed as is your desire for either a wood or a plastic handle so you can completely keep your theme.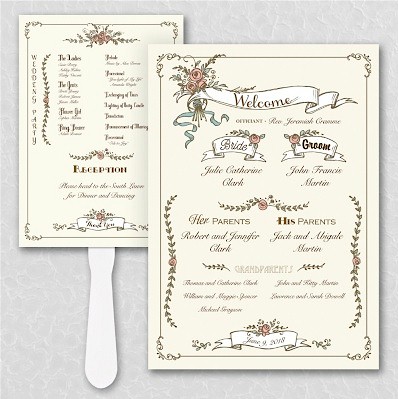 The only thing that will be in the 90 degree air will be romance when you choose this passionate Program Fan. The classic charm of the pretty bouquets lends itself well to vintage themes weddings and anniversary parties.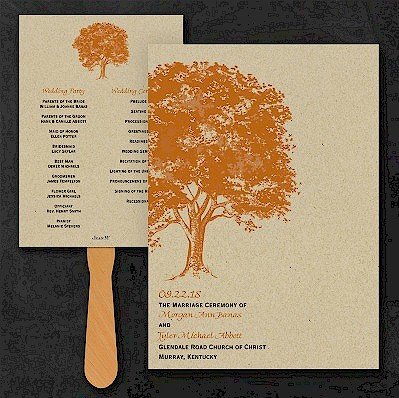 Another favorite Program Fan is this Kraft paper option with a soft tree graphic. When partnered with a wooden handle and the mango colored ink, your event will carry through its outdoor theme with absolute class. It is a subtle, understated profile that will be sure to be noticed.

We have a fabulous selection of themed Program Fans and other wedding programs for your next event, but we also have many shapes that are blank canvases waiting for your creative flair. Circles, sea shells, and hearts are just examples of other Program Fan shapes you can use to make your next outdoor event a real cool affair.

By Lynn Olejniczak
Lynn Olejniczak is a writer and researcher who lives in and loves Chicago. A mother of two, she claims if she had three hands she would be wishing for a fourth.


---
Comments
Blog Index