The Key To My Heart
---
This new Key To My Heart Wedding Invitation really has me in a romantic mood this week.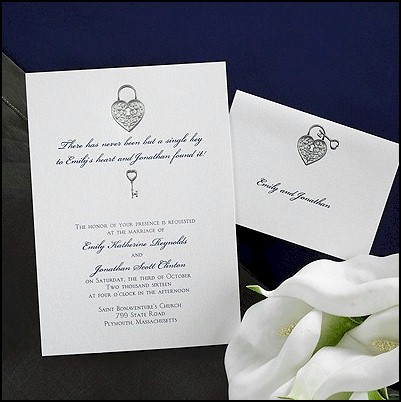 And while I was perusing the Internet in my romantic haze thinking about all that keys and hearts symbolize, safety, commitment and a place to call home, I found some inspiration for a Key To My Heart Wedding to share with you.

Whatís the first thing to come along when planning a wedding? Usually an engagement ring; a gift that is presented to the bride as a sign of sincerity and commitment to the future. What could be more romantic than a heart-shaped diamond?





If your heart was not already unlocked before seeing this gorgeous solitaire ring, it surely flew open upon presentation! And check out the key design wedding band. Simple in design enough for a guy, and always a reminder to you both of the sentiments that hold you together forever.

A traditional wedding gift for your guy is a pair of cufflinks to wear on your wedding day.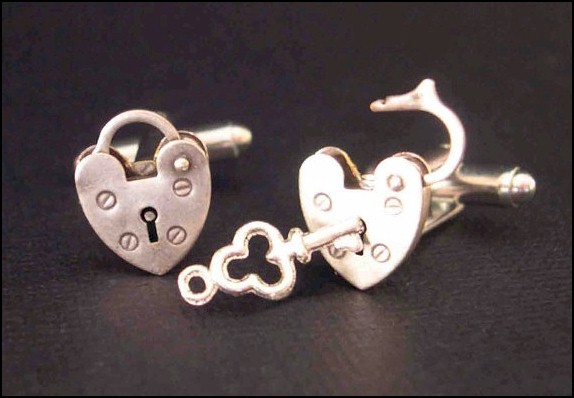 I love this set, designed to look like heart-shaped padlocks, and especially the fact that the key has an eye allowing you to wear it on a chain as your bridal pendant. Sweet!

One of the most creative ideas I found was a bridal bouquet incorporating a padlock and a boutonniere crafted using a skeleton key.





Iím just going to take a wild guess here and say that most guys will appreciate that it keeps the flowers they have to wear to a minimum. For the bouquet, there are lots of really cool ways to make this personal, including heart-shaped locks and engraved locks. I personally like this one: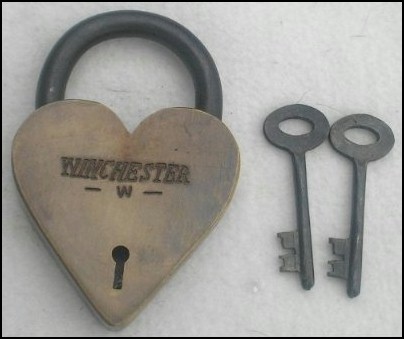 Although there is only one key to your heart, you can continue the theme into the reception by incorporating keys into your seating card board.





Notice how the Etsy seller shows sets of two keys per style? Just make sure you pair up the styles for couples, and maybe you could even play matchmaker by offering matching sets to unpaired singles! The keys make a truly wonderful favor item for your guests to take home with them after the wedding, too.

Finally, in poking around looking at cakes to fit the theme, I found a key to my heart cake thatís pretty enough, but in the same search, I found a poetry cake that was so unique, I just had to include it!





If I were planning a Key To My Heart Wedding, Iíd find a beautiful poem to have embossed on the layers of my cake and the key and keyhole included in that design.

And on that note, Iíll leave you with this poem I found which is a perfect fit:



More precious than silver,
More expensive than gold.
Like the rarest diamond, Itís one of a kind
The key to my heart you hold.
Be careful with it,
There's no spare, just one.
And it belongs to you
So guard it with your love
It opens my heart,
A secret world.
You'll find my love, my world,
My pain, my joy, my private emotions
Hidden from all but one
The very key to my soul,
It's the key to my heart you hold

Whitney Brown



For more inspiration, follow our Key To My Heart board on Pinterest!

By Joyce Buczek
Google+

Joyce Buczek was the founder and original owner of Invitations4Less.com in 1999. She continues working with Invitations4Less.com as a consultant and guest blogger. In her spare time, Joyce enjoys traveling, cooking and spending time with her family, including 2 spoiled cats.


---
Comments
Blog Index