Wedding Wednesday: Catch Kim & Kris's Celebrity Style
---
If you're keeping up with the Kardashians, it's no surprise to you to hear that Kim and Kris Humphries recently became engaged with an elaborate proposal followed by an even more elaborate party. The wedding date is set for later this month. Did you receive your invitation yet?

The uber-exquisite wedding invitation, created for the couple by Lehr & Black, stationers to the stars, features a custom monogram with their initials artfully arranged to resemble a family crest, a pearl-embossed insignia, die cut scrolled edges and is encrusted with hundreds of black hematite crystals for that extra bit of sparkle. The whole ensemble arrived to guests' mailboxes in its own gate-fold invitation box, the flaps of which revealed additional cards for "Information and Details" and "Dinner and Reception".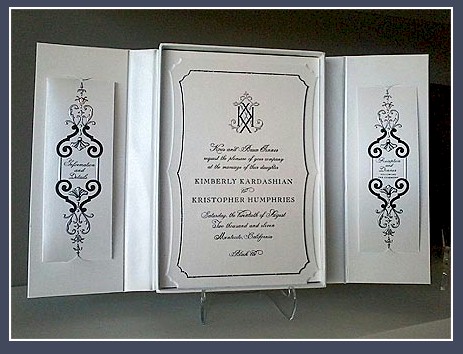 photo: Lehr & Black



What we love best about this invitation is how the couple chose to utilize their initials to truly personalize the invitations and start their new life together with their own unique marital monogram.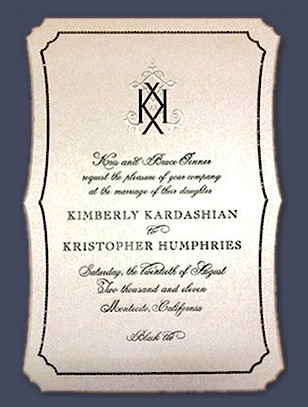 photo: Celebrity Bridal Guide



Even the most modest budgets can dress up an otherwise simple invitation for fabulous results by borrowing this one simple trick. With the easy availability of a variety of elegant fonts, you may choose to play with your own artistic skills, or work with our in-house designer to create your custom wedding invitation with a monogram design that is truly one-of-a-kind!

It's easy to add this special touch, whether submitting your art to us, or created by our designer, to your invitations and still have the quality raised print available only through a professional stationer at a very reasonable price. Your guests will be impressed!

Visit our Wedding Invitations Pages to get started!

By Joyce Buczek
Google+

Joyce Buczek was the founder and original owner of Invitations4Less.com in 1999. She continues working with Invitations4Less.com as a consultant and guest blogger. In her spare time, Joyce enjoys traveling, cooking and spending time with her family, including 2 spoiled cats.


---
Comments
Blog Index