Las Vegas Wedding Locations
---



Pack your bags
get out of town
head to Vegas
and double down!




Las Vegas is an attractive option for destination weddings due to the abundance of chapels and the ease of planning. Here we present for you a listing of active wedding chapels ready to make your day special.

Chapels in Vegas come in all shapes and sizes. You can be married in a Medieval Castle, in "Graceland", at a drive-thru or in the serenity of the desert. The options are nearly as varied as the 100,000 weddings that take place in this vibrant city every year! Take a look at some of the hot options we have found for your big day.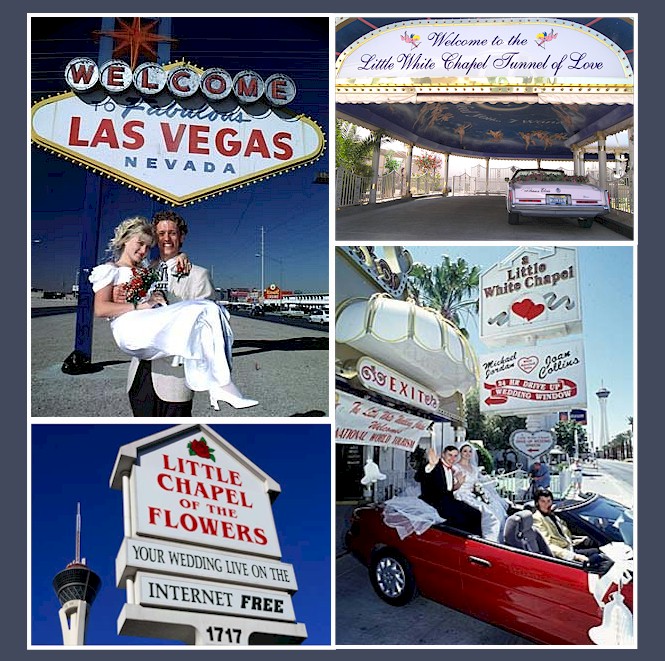 Downtown:

Graceland Wedding Chapel
619 Las Vegas Blvd. S.
(800) 824-5732
http://www.gracelandchapel.com/
Packages start at $199 + minister fee
Special Features:

This iconic chapel has held the weddings of Jon Bon Jovi, Billy Ray Cyrus and Aaron Neville.


Home of the original "Elvis Wedding" where you can have your ceremony performed by an Elvis Impersonator.


Virtual attendance for your guests via web broadcast (uploaded within 24 hours and available for 30 days after your wedding date).




Viva Las Vegas Wedding Chapels
1205 Las Vegas Blvd. South
1 (800) 574-4450
http://www.vivalasvegasweddings.com/
Packages start at $199 + minister fee
Special Features:

Twilight style weddings to include an Edward impersonator as the minister.


Beach party, Disco, James Bond and many other themes to choose from.




Wee Kirk O' The Heather Wedding Chapel
231 Las Vegas Blvd. South
(800) 843-5266
http://weekirk.com/
Packages starting at $87 + minister fee
Special Features:

This historical Las Vegas wedding chapel opened in 1940.


Get married in front of the famous "Welcome To Fabulous Las Vegas" sign if you want!


Options include Elvis Weddings, Limo Weddings, Destination and many more.





On The Strip:

Chapel of the Flowers
1717 Las Vegas Blvd. So.
Las Vegas, NV 89104
(800) 843-2410
http://www.littlechapel.com/
Packages start at $195
Special Features:

Voted Best Las Vegas Wedding Chapel 2011 by readers of the Las Vegas Review Journal.


All packages include a wedding planner and coordinator.


Reception options that meet the needs of larger groups.


Bella Amore Yacht Ceremony & Reception – enjoy Lake Las Vegas with a ceremony and dinner reception aboard the La Contessa Yacht.




A Little White Wedding Chapel
1301 Las Vegas Blvd S
Las Vegas, NV 89104-1300
(702) 382-5943
http://www.alittlewhitechapel.com/
Packages start at $40.00
Special Features:

24-hour Tunnel of Love Drive Thru


The Little White Wedding Chapel





Off The Beaten Path:

Heli USA Airways
McCarran International Airport
(800) 359-8727
http://www.heliusa.com/tours/grand-canyon-las-vegas-weddings/
Packages start at $895
Special Features:

Cupid's Night Flight


Wedding Ceremony in a luxurious helicopter above the city.




Grand Canyon Ranch
3750 E. Diamond Bar Ranch Rd.,
Meadview, Arizona 86444 U.S.A
(800) 359-8727
http://www.grandcanyonranch.com/
Special Features:

165 square miles of breathtaking scenery located only five miles from the West Rim of the Grand Canyon


Romantic Tailor-Made Options


Private Wedding Helicopter


Custom Menu


Private Chef




Valley of Fire Weddings
(866) 914-0198
Packages start at $399

Valley of the Fire wedding ceremonies

Las Vegas Strip Helicopter Weddings


Las Vegas Welcome Sign Weddings


Amazing outdoor weddings




Always & Forever
3003 Rigel Avenue
Las Vegas, NV 89102
(800) 259-2978
http://lasvegaswedding4u.com/
Packages start at $149

Lakeside Garden and Gazebo weddings


All-inclusive wedding receptions for larger parties




Come back next week for all the details you need to prepare for your Las Vegas wedding!

By Michaela
Michaela has been with Invitations4Less.com since 2003, showing off her customer service skills to a variety of stationery consumers.
Michaela is mom to two active pre-teens and spends her free time bike riding, boating, hiking and enjoying family time.


---
Comments
Blog Index