Trendy Laser-cut Invitations for your Wedding
---
Exactly as Sarah Schwartz predicted at the 2011 National Stationery Show in New York City, stationery featuring laser-cut details have become the hottest trend in the wedding market. Sarah is the editor of Stationery Trends Magazine and is the go-to expert on up-and-coming trends in the marketplace. Invitations4Less.com is excited to announce the addition of several new invitations to our ever-expanding product line.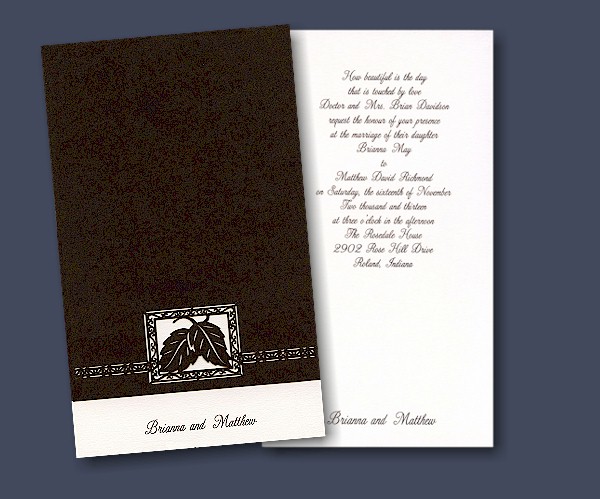 Just in time for autumn, we introduce our Romantic Leaves ensemble. This top-fold chocolate-colored invitation wrap with an ecru invitation would be so lovely for an autumn wedding. Your guests will admire the laser-cut pair of leaves and the intricate swirls that grace the front cover.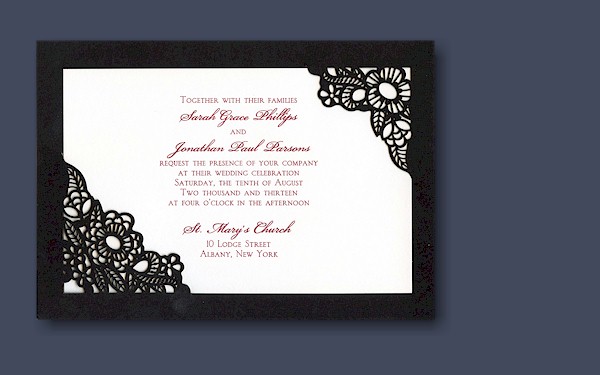 A bright white invitation card inserts neatly into the laser-cut corners of a black backer card. The fancy corners feature a lacy wildflower design. Wouldn't this invitation look incredible graced with two ink colors such as black and your wedding's accent color?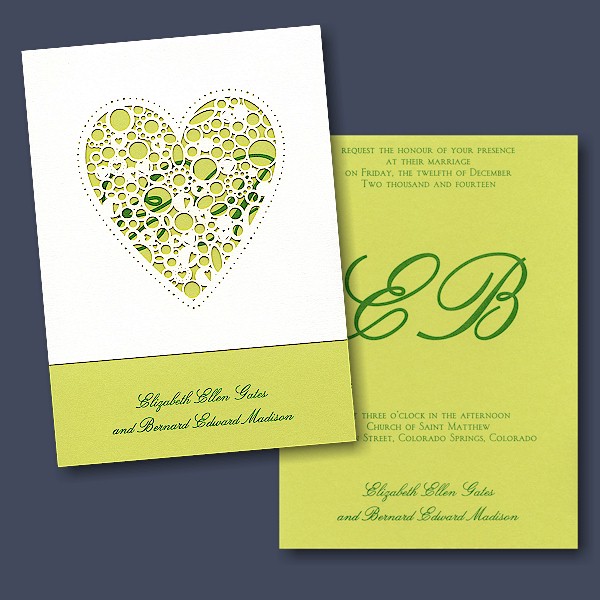 Color options are plentiful for the insert card of this top-fold bright white invitation. Your initials will play peek-a-boo behind the lacy heart cut-out. Shown here in Margarita, the inner card is available in 15 alternative colors!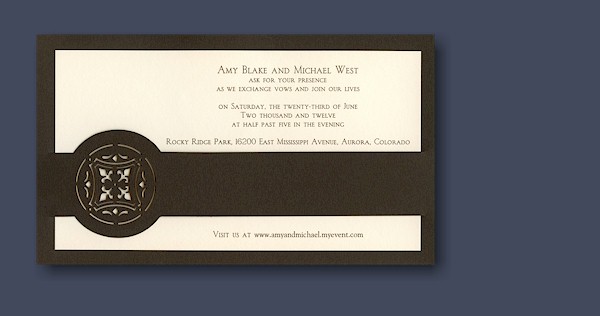 An ecru invitation layer gently tucks behind a cut-out band of mocha as it rests on the mocha backer. The intricate design of the laser cutting symbolizes your love for one another.

We've saved a very special laser-cut invitation for next week and an entire blog will be devoted to it. Be sure to check back next week to find out what it is!

By Jeanne Woodyard
Google+

Jeanne has worked in the printing industry for nearly 30 years and became the new owner of Invitations4Less.com on January 1, 2012.
When not working with our customers, Jeanne enjoys spending time with family and friends, RVing with her husband and spoiling her two kitties.


---
Comments

Name: Sheila Kamran
Location: US
Location: Do you have any laser cut Bat-Mitzvah invitations available?

Name: Jeanne
Location: Dubuque, IA
Location: Hi Sheila! Thank you for your interest in Bat Mitzvah invitations from Invitations4Less.com! While we do not show any laser-cut designs for Bat Mitzvahs, there are some in our wedding line that might work for you. http://wedding.invitations4less.com/ImageViewer.asp?ID=1592&Type=I is available with the wrap in other colors. This invitation would be lovely as a Bat Mitzvah invite: http://wedding.invitations4less.com/ImageViewer.asp?ID=1403&Type=I Other options are available here: http://wedding.invitations4less.com/Laser-Cut-Wedding-Invitations.asp Please contact us if you have any questions! ~~Jeanne

Blog Index