We're Expecting!
---
With friends and family spread far and wide, it's a challenge to make sure everyone gets the news in a timely fashion.

There's always facebook, but somehow that seems sort of impersonal.
You could make phone calls, but if you have more than just a handful of family and friends, it's time consuming.
That's why we adore the newest trend in birth announcements, which would actually be the pre-birth announcement. Or shall we call it the "We're expecting!" announcement?

A particular favorite around here is the Mod Mom design. It encompasses everything we love about the latest trends in stationery – retro/modern design, THE color of 2011- honeysuckle pink, paired with the long-lasting favorite neutral, mocha, and polka dots.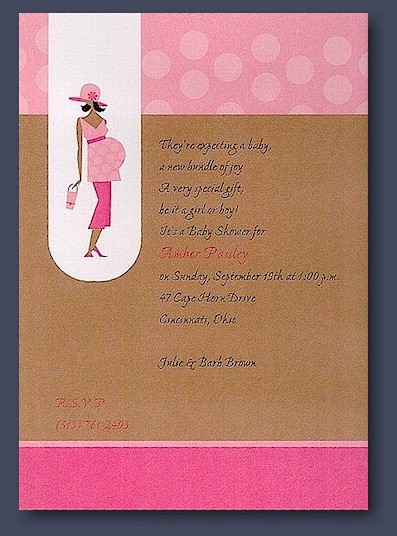 This announcement is all about you, so no need to worry about that whole pink vs. blue thing this time around! Choose the font that speaks to your personality and send these babies off.

Everyone will be thrilled to be a part of your inner circle and you'll be the classiest mom-to-be they know!

By Joyce Buczek
Google+

Joyce Buczek was the founder and original owner of Invitations4Less.com in 1999. She continues working with Invitations4Less.com as a consultant and guest blogger. In her spare time, Joyce enjoys traveling, cooking and spending time with her family, including 2 spoiled cats.


---
Comments
Blog Index