Getting To Know: Mosaica Studios
---
If you're looking for a Bar or Bat Mitzvah invitation that speaks to both your aesthetic and your desire to support an Israel-based business, you should know about Mosaica Studios Invitations.

From humble beginnings, working out of a studio apartment over 20 years ago, Mosaica Studios now occupies a 30,000 square foot building situated in the foothills of Jerusalem printing and assembling custom invitations of high-quality paper sourced from around the world. You may choose from their large selection of designer invitations or let your imagination run wild with their extensive collection of beautiful paper stocks with which to create your custom work of art! Then finish off your ensemble with a "Made in Israel" notation on the back of your invitations at no extra charge.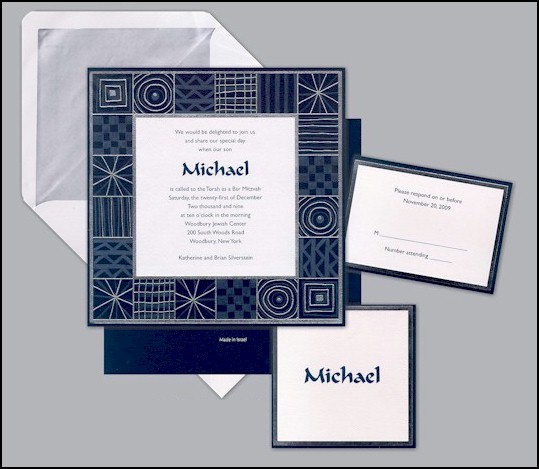 Invitations4Less.com is pleased to offer a variety of beautiful invitations from Mosaica Studios. Please visit our Mosaica Studios Bar and Bat Mitzvah Invitations page for a small sampling of the full collection of available options.

By Joyce Buczek
Google+

Joyce Buczek was the founder and original owner of Invitations4Less.com in 1999. She continues working with Invitations4Less.com as a consultant and guest blogger. In her spare time, Joyce enjoys traveling, cooking and spending time with her family, including 2 spoiled cats.


---
Comments

Name: Ashley Horn
Location: London England
Location: Please advise price of the above invitations

Name: Jeanne
Location: Invitations4Less.com
Location: Hi Ashley and thank you for your interest in Invitations4Less.com! You can find the pricing by clicking on the image of the invitation, and then clicking on "Continue" at the bottom. The next page will give you a drop-down selector for the quantity you need and that will show you the pricing. If you have any additional questions, please feel free to contact us at customerservice@invitations4lessmail.com

Blog Index