A new Asian-themed Wedding Invitation from Carlson Craft hits all the right notes!
---
As we reported earlier this year on our Facebook page, Turquoise was pronounced "Color Of The Year" by the Pantone Company, the world's leading authority on color. It came as no surprise to us then that the Adorable Aqua Bat Mitzvah invitation from Birchcraft Studios took off and has been one of our hottest sellers this year.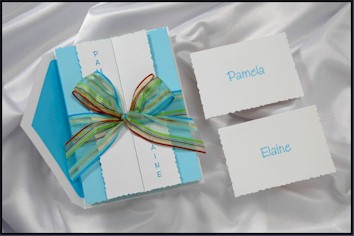 It encompasses everything we love about turquoise- it's vibrant, fresh and feminine without being over-the-top.

So, you can imagine our excitement when we received the new peacock-feather design Imperial Wedding Invitation from the Simple But Elegant line of invitations from Carlson Craft earlier this week!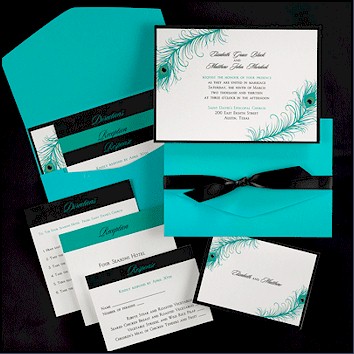 This fabulous wedding invitation hits on three major trends of 2010: Turquoise, Asian themes and Pockets! It's printed on pearl shimmer stock and tucked into a wrap of rich turquoise paper with a die-cut to hold your accessory cards in order, then tied up in a neat ebony satin bow.

We love the vivacious coloring on the peacock feathers and the subtle nod to Asian design, as well as the notion that you can use one, two or all three of the coordinating accessory cards equally well without feeling either sparse or over-crowded. The matching Informal Note, which you may also use as a Thank You note, utilizes the same design layout to hint back to the original invitation your guests received before the wedding creating an anticipation of the event to come!

We're predicting this invitation is going to be a hot seller well into 2011!

By Joyce Buczek
Google+

Joyce Buczek was the founder and original owner of Invitations4Less.com in 1999. She continues working with Invitations4Less.com as a consultant and guest blogger. In her spare time, Joyce enjoys traveling, cooking and spending time with her family, including 2 spoiled cats.


---
Comments
Blog Index