Oh Baby! Baby Name Trends from 2014 and Beyond
---
Choose a name.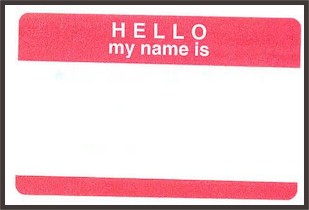 Sounds like such a simple task, doesn't it? After all, It can be any name, spelled any way you like it.

But, as many of you know, picking a name for a new baby is anything but simple. Any name turns into a few favorites, and ultimately into the name --- one that you and, of course, your child, are forced to live with for a very long time.

Will she be able to pronounce it? Will his initials be weird? Does it sound okay with our last name? Do you think it will fit her personality? Does it have familial significance? Is it original enough? Is it too original?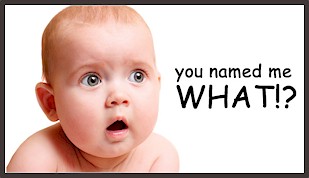 Parents have wrestled with questions such as these for years. The result is a slew of baby names that run the gamut from straightforward and traditional to perplexingly and unconventional --- and just about everything in between. Yet another factor that affects baby names is the year in which the baby is born.

Most Popular Baby Names from 2014
The Social Security Administration recently released a list of the top 1,000 most popular baby names of 2014 and some of them may surprise you. Though the trends seem to change as fast as the tides, some manage to withstand the tests of time.

Emma, Sophia, and Olivia still claim the top three slots for girls while Noah and Liam managed to reclaim the top two for boys. In fact, the top ten names for both boys and girls remained eerily similar. Madison, Abigail, Ava, Emily, Isabella, and Mia remained in the top ten for girls whereas William, Jacob, Michael, Mason, Alexander, Daniel, and Ethan remained in the top ten for boys.

Some once-unconventional-now-commonplace names made the top 1,000 --- including Quinn, Axl, Paislee, Willow, Ximena, Zoey, and, of course, Elsa. And these names are only the very tip of the iceberg. From truly traditional to extraordinarily original, parents of 2014 babies seem to have outdone themselves. Explore the top 1,000 names of 2014.

A fun interactive tool allows you to explore what your name would have been if you were born in a different year yet were given a name with the same level of popularity.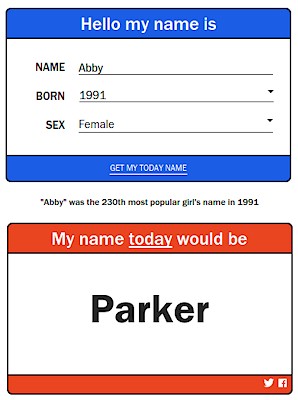 For example, I was named "Abby" in 1991. If I were born today and was given the 230th most popular name, I would be named "Parker." Give it a shot with your name.

2015 Monikers
Not to be outdone, 2015 promises to be just as noteworthy. Some "oldie but goodies" that climbed their way up to the top ten in 2014, like James and Charlotte, are already pushing the envelope in 2015. While James became a very popular name for baby boys in 2014, celebrity parents Blake Lively and Ryan Reynolds decided to put a new spin on the name with the birth of their baby girl James earlier this year. Earlier this month, Charlotte was promoted to royal status with the arrival of Princess Charlotte Elizabeth Diana. Although outside of the country, the royal family's immense popularity will undoubted have far-reaching effects.

Baby in your Near Future?
Worry not. The Internet wants to help! Here's a compilation of seven handy dandy little baby name generators that can help you create or pare down your list of mini monikers.

We'd love to help as well! No matter what name you choose for your little bundle of joy, Invitations4Less has a thorough selection of affordable, attractive birth and adoption announcements, birthday party invitations, shower invitations, and religious event invitations.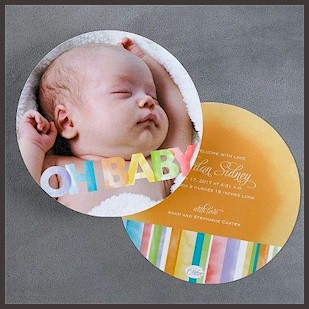 If you'd like assistance finding the perfect card for your occasion, let us know. We'd be more than happy to help.

By Abby Teunissen
Abby is passionate about embracing diversity, fostering learning, and supporting rural communities. She lives with her husband and daughter on a grain and cattle farm near a small town in Northwest Iowa. When she's not whipping up blog posts or plugging away on other digital marketing projects, Abby enjoys spending quality time with her family, tending to her garden while soaking up all the Vitamin D she can get, helping her husband around the farm, and patiently awaiting her long overdue letter from Hogwarts.


---
Comments
Blog Index