Help! What's an Oneg? What's a Kiddush Luncheon?
---
Got a Bar / Bat Mitzvah Invitation that mentions a Friday Oneg or a Kiddush luncheon? Confused as to what that is and what to expect? Here's a quick crash course in what these important Jewish traditions and terms mean.

An Oneg is an informal Sabbath gathering on Friday evening, the start of the Jewish Sabbath, to celebrate the Sabbath and the joy to be found in it. The Oneg can be celebrated in a private home or in a synagogue and has become a more social than religious celebration. It usually includes plenty of good food, lively conversation and music, all with the idea to help "call the Sabbath a delight" (Isaiah 58:13). An Oneg can be included in the corner copy or in the main text of an invitation by noting "Oneg to follow".

A Kiddush is a traditional blessing spoken over the wine just before the meal on the eve of the Sabbath or festival to indicate the sanctity of the day. Many Bar and Bat Mitzvah services include a Kiddush and luncheon following to help celebrate and mark the sacredness of the event. On invitations, people may include information such as "Kiddush Luncheon immediately following service" in the main body of the invitation or as corner copy, inviting their guests to partake.

So when you see these events included on your invitation, prepare to enjoy sacred and joyful celebrations!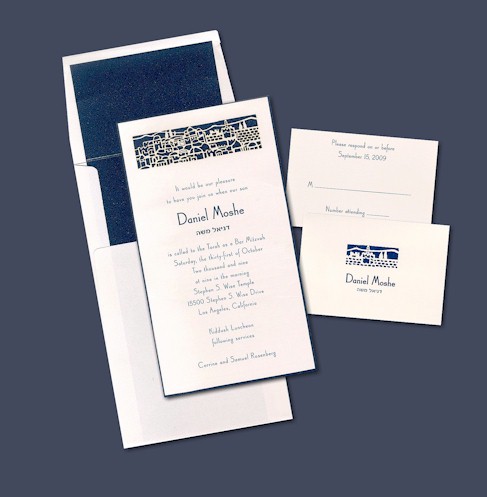 By Caron
Caron has been assisting customers to announce and invite guests to their important life events since 2000.
In her hours away from Invitations4Less.com, Caron enjoys relaxing at home with her two children and two cats and spending time with friends.


---
Comments
Blog Index