La bonne vie ~ Take a trip to Gay Paris with me!
---
Ahhh, Paris! The mere mention of the city conjures up visions of romance. I was one lucky lady when I got to share my first ever trip to Europe with the love of my life in celebration of our 20th anniversary in 2007. And let me tell you, it's as romantic a scene as you've always heard!

Our trip to the City of Light was brief, nestled within a larger whirlwind trip through Europe, but in just those few days, we experienced the sights, the sounds and the smells (the bakeries and crepe shops!) of Paris and were left with a hunger to return.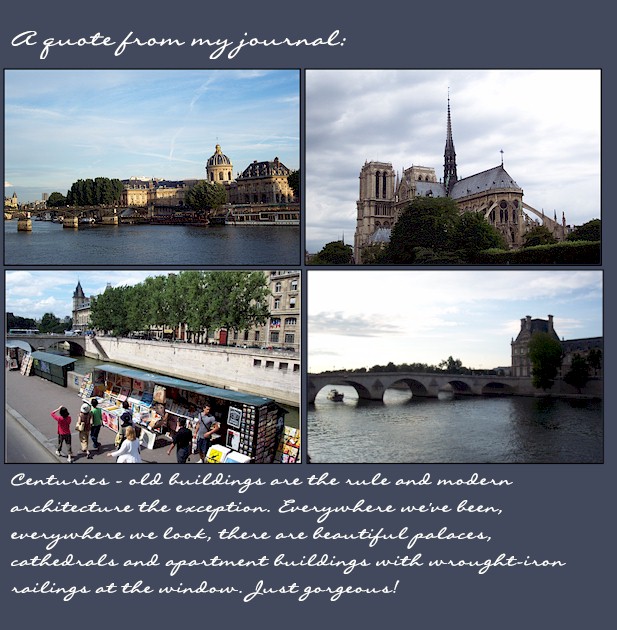 Everything in Paris seems larger than life. All those sites you've seen only in the movies and books, or re-created in Las Vegas, are there and more! The city is absolutely huge, but the arrangement of arrondissements, or neighborhoods, makes it all quite digestible and lends to the ethereal, romantic quality. Each has its own personality and you can lose yourself in one, or explore as many as you can fit into your trip!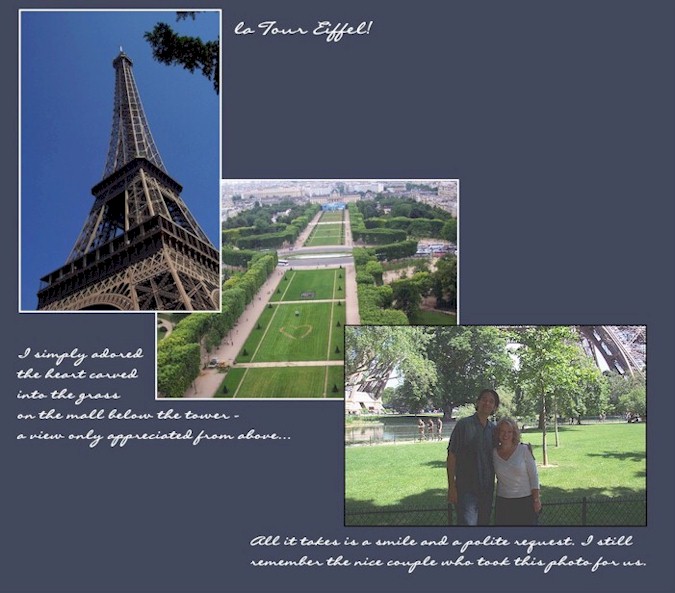 We stayed in St. Germain, or the 6th arrondissement, and that was perfect for our first visit to Paris... within walking distance of the Louvre, Notre Dame, the River Seine for evening strolls and with easy access to the Metro line which will take you just about anywhere you want to go throughout the city.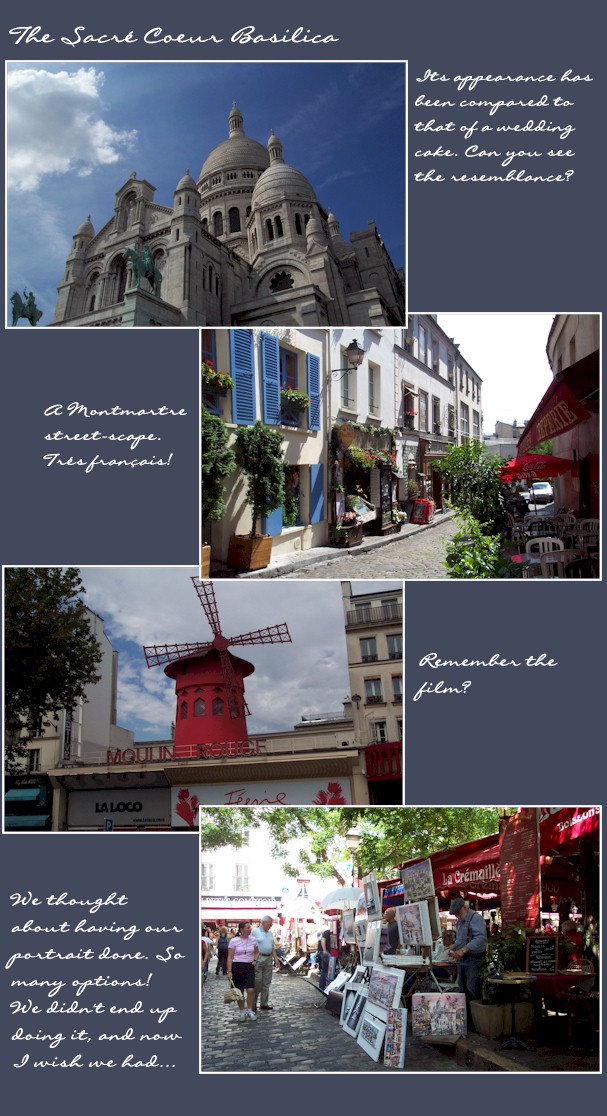 But I think next time I'd like to stay in Montmartre. There's just something so colonial and romantic about it!

It's hard to believe it's been over four years since that trip. Looking back at the photos brings it all back like it was yesterday! Next year we celebrate our 25th anniversary, and guess where I'm itching to go!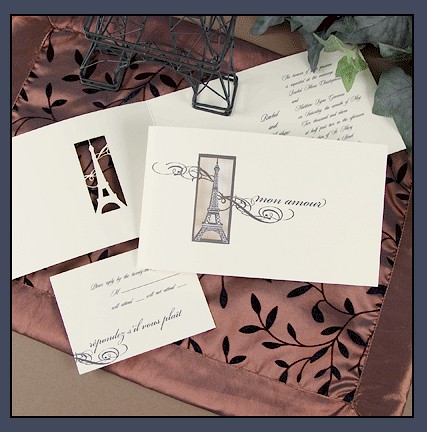 If you're planning a French-themed wedding, honeymoon or even being married at Paris Las Vegas, you'll love our Mon Amour Wedding Invitation! With a laser-cut Eiffel Tower and pre-printed title "mon amour", the message is clear: You're celebrating Parisian style!

By Joyce Buczek
Google+

Joyce Buczek was the founder and original owner of Invitations4Less.com in 1999. She continues working with Invitations4Less.com as a consultant and guest blogger. In her spare time, Joyce enjoys traveling, cooking and spending time with her family, including 2 spoiled cats.


---
Comments

Name: Susan -Ann Summers
Location: Allen, Texas
Location: I am planning a French themed wedding a Night under the Stars with the beautiful Eiffel tower. And I have been looking for something like this. This is the perfect Invitation. I only need 80 Invitations and would like to write the inside saying.

Name: Jeanne Woodyard
Location: Gallup, NM
Location: Hi Susan-Ann, Thank you for your interest in Invitations4Less.com! I'm so sorry, the Mon Amour invitation has been discontinued since the blog was written. However, there's a beautiful alternative available: Joie de L'amour Wedding Invitation. The laser die cutting on this invitation is exceptional! Please let us know if you have any additional questions and you may contact us at 888.497.3581.

Blog Index