Peace Out With Our New and Exclusive Hippie Chic Invitation
---
I don't know about you, but I've been seeing peace signs everywhere for quite awhile now. They're on 'tween clothing, travel coffee mugs and water bottles, notebooks and cell-phone covers. It seems the 'tween market just can't get enough of this design and it shows no signs of letting up.

So why were we having such trouble finding great options for invitations with peace symbols on them? Having done a pretty extensive search, I can tell you the options are quite limited.

What's a savvy stationer to do? When we see a niche that needs filling, we take matters into our own hands and create an exclusive!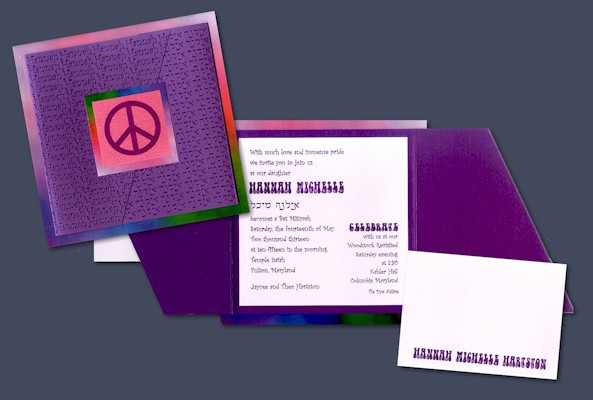 Working with designer Shelley Epstein of Designer's Connection in south Florida, we set about to transform the ever-popular, but masculine, Distinctly Personal Bar Mitzvah Invitation into a riot of color and 60s sensibility that's equal parts modern, fun and feminine. The result is our exclusive Hippie Chic Bat Mitzvah Invitation. We're anticipating great things for this new release, and you can only get it at Invitations4Less.com!

By Joyce Buczek
Google+

Joyce Buczek was the founder and original owner of Invitations4Less.com in 1999. She continues working with Invitations4Less.com as a consultant and guest blogger. In her spare time, Joyce enjoys traveling, cooking and spending time with her family, including 2 spoiled cats.


---
Comments

Name: nancy resman
Location: new jersey
Location: love it!!!!!!

Name: Joyce
Location: Invitations4Less.com
Location: Thanks, Nancy. We're pretty excited about it, too!

Name: Marcia
Location: Miami
Location: great look...good luck...peace...

Blog Index