Not For the Shy or Inhibited: A Peacock Feather Themed-Wedding Is Bold & Beautiful!
---
When I saw this new Peacock Feather Save The Magnet unveiled just recently, I was so excited to see a Save The Date option in this magnificent theme!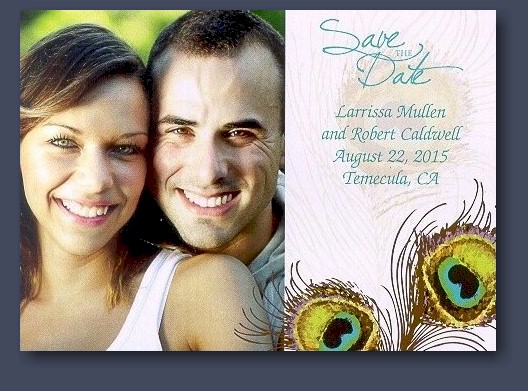 We've been watching this trend for awhile now. Since revealing first sight of it in our September 10, 2010 blog the peacock feather theme has become a hit among brides and continues to grow with couples seeking a dignified and rich color scheme for their weddings. And it's no surprise it's catching on, given the symbolic meaning of peafowl. In ancient Christianity, the peacock symbolizes eternal life; in Hinduism, it is associated with a deity known for patience, compassion and knowledge - all desirable traits to bring to a new marriage!

If this theme hits all the right notes for you and your beloved, you'll have no trouble finding everything you need to incorporate it into your special day. However, the key is to keep it subtle. The colors in this theme are so bold and so strong, it's important to keep them in check lest you end up looking over-the-top.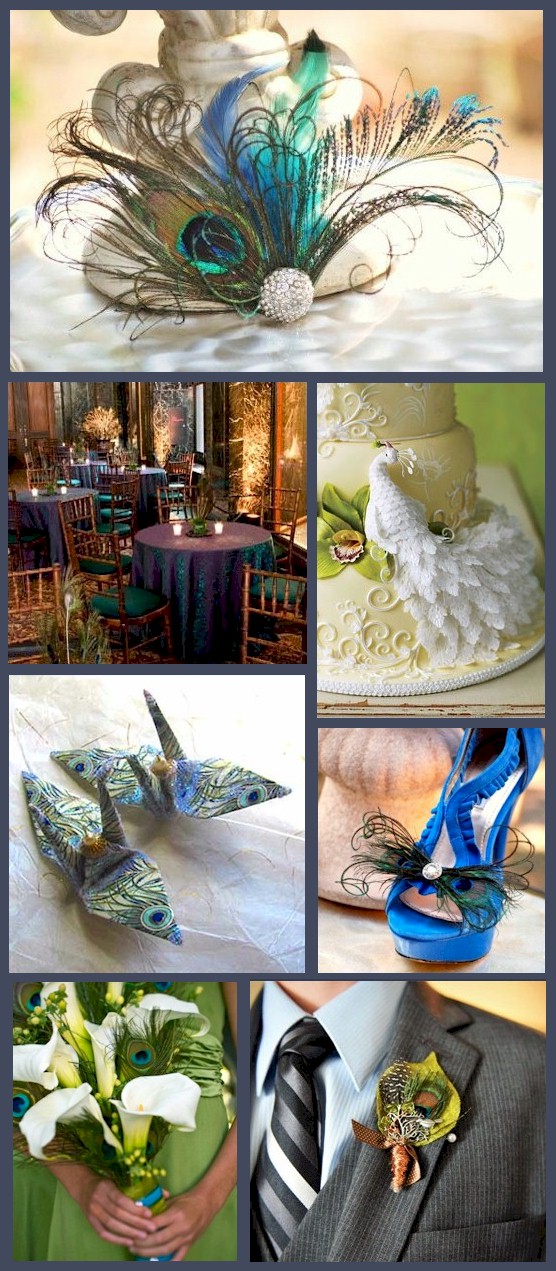 Who doesn't love a fascinator? Never more popular than since the Royal Wedding of 2011, when Kate Middleton became Catherine, Duchess of Cambridge, the fascinator is a chic way to add a little drama to your (or your bridesmaids') look. Paired with a traditional white or ivory gown on a bride, or adorning the crown of a bridesmaid wearing a single rich color from the feather, this lovely little piece would add just the right amount of the theme without going overboard. (available from Etsy seller Sofisticata)

Your reception can be dramatic without screaming Peacock. Choosing linens in iridescent purple and teal sets the tone and provides a dramatic backdrop to your subtle touches. (photo by Garbo Productions)

I just love this wedding cake which is traditional yet incorporates the theme beautifully. The ivory fondant icing and monochromatic color scheme keeps it elegant while the sculpted peacock in white gum paste adds the flair of the theme. (cake by Flora's Divine Cakes, Las Vegas)

Favors are one area where you can really let your theme shine. Your guests will be delighted by these Origami Cranes of peacock feather paper. They'll not only add a real punch to your reception tables, they also bear the symbolism of both the origami crane (folding 1,000 cranes is said to result in the realization of a wish) and the meaning of the peacock feather (eternity, compassion, patience). (available from Etsy seller localcolorist)

One of my favorite recent trends in weddings is the bride wearing brightly-colored shoes under her traditional white or ivory wedding gown. It's a brilliant surprise that is most often seen in red. But for your peacock wedding, how about veering off into the world of color with these bright and sexy royal blue sandals with a peacock feather shoe clip? (shoe clip available from Etsy seller Sofisticata)

Sure, you could create an entire floral scheme around the peacock feather, but I prefer to keep it simple and sophisticated, such as with this bouquet of white calla lilies (could any flower be more elegant?) mixed with just the right number of peacock feathers and tied with a turquoise blue satin ribbon. (photo credit: Ben Chrisman Photography, San Francisco).

And I think the guys will be perfectly happy when presented with a less girly option for their boutonnieres. How about this simple peacock feather creation as seen at a wedding photographed by Ling Photography? (Ling Photography, St. Paul, MN)

The key to keeping your wedding on the upside of elegant when using a bold theme is to incorporate your inspiration subtly. Little touches here and there go a long way toward adding up to memorable and classy.

By Joyce Buczek
Google+

Joyce Buczek was the founder and original owner of Invitations4Less.com in 1999. She continues working with Invitations4Less.com as a consultant and guest blogger. In her spare time, Joyce enjoys traveling, cooking and spending time with her family, including 2 spoiled cats.


---
Comments

Name: Shelley Novotny
Location: Theresa, WI
Location: I love the concept of peacock weddings. I think many people do. I actually created a Peacock Wedding Pinterest board, that was received well. I am going to share this post on my Embellishu page! Shelley Novotny http://xeeme.com/ShelleyNovotny

Blog Index