Perfectly Perfect
---
Throwing the perfect party can be tough.

There are the preparations, the decorations, the invitations --- all of which require a great deal of effort and a clear sense of style. It's time consuming and exhausting.

We get it --- and we want to help! Our party invitations and supplies will help take some of the pressure off of you and allow you to enjoy the process.

While we have a wonderful, diverse collection of party invitations, we're most excited about our newest album, Krepe-Kraft's "Invitations for your Perfect Party" collection. This collection of affordable AND stylish (great combo, right?) party invitations will stun your guests with their unique charm and chic details.

The neatest thing about these invitations is their unique suite collections. Invitations in these suites come in up to four different versions --- each bringing something unique to the table.

Some of the different options include different layering, paper colors and patterns, rounded corners, envelope liners, and even different imprinting options. A small sample of the invitations in this stunning collection are featured below, but they represent just a small sample of the collection. Read our first feature post then shop our entire collection of party invitations today to get a look at all of these beauties!

Beauty in Elegance
First up is the Elegant Frame Suite, which boasts beautiful cuts and striking designs. The Elegant Frame Sweet 16 Invitation has just the right amount of daintiness and glam.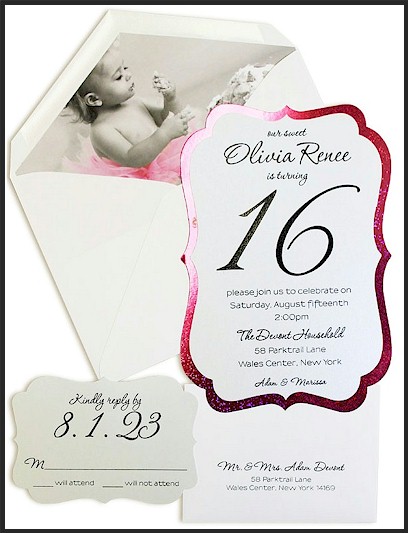 The next invitation in the Elegant Frame Suite takes things in a more dramatic direction. Bold black and a dazzling glitter border surrounding this invitation's unique shape create a feast for the eyes.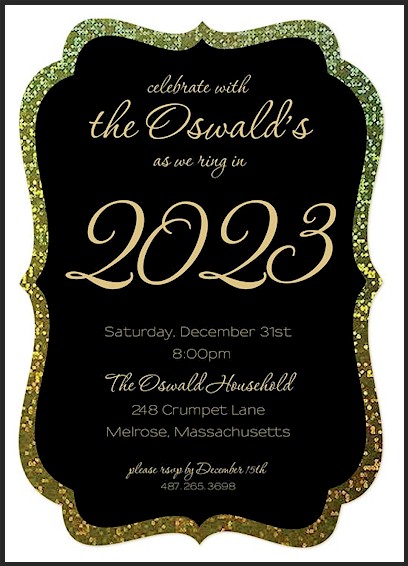 The last invitation in the Elegant Frame Suite lets the die-cut crest shape take the spotlight --- no extra frills needed to make this invitation stand out.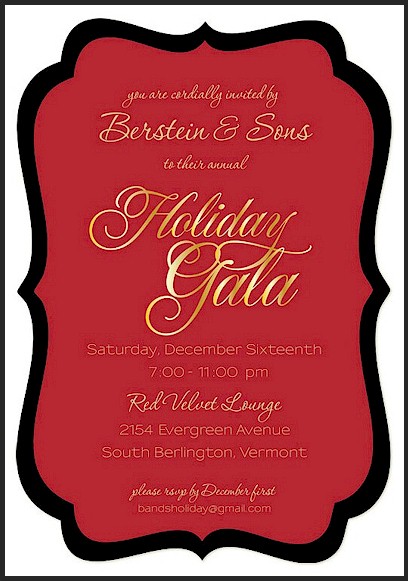 Fabulously Festive
The Festive Banner Suite embodies all things cute and trendy. A tasteful bunting design flanked by unique typography creates the perfect invitation. The first invitation in this suite blossoms with decorative blue and brown designs, allowing you to celebrate in style.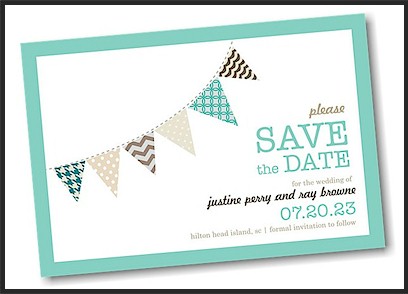 The next invitation gets back to its roots with brown, green, and orange designs. This unique mix of colors and the detailed bunting designs make this invitation truly shine.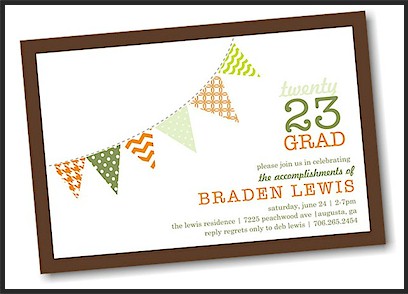 If you're more into understated beauty, this Festive Suite invitation quietly fulfills your wishes. Soft tints and muted designs bordered by a natural brown create a pleasingly delicate invitation.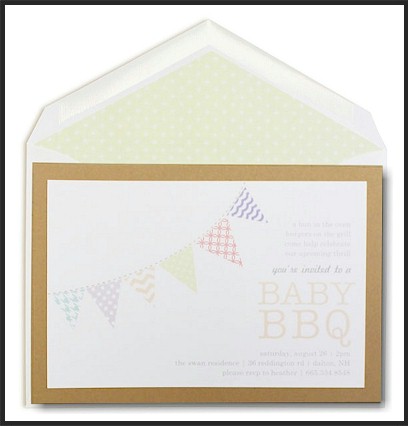 Disco Suite
Forget understated --- flashy, anyone? The Disco Suite invitations are so bright and bold; whether you're celebrating an office party or ringing in the New Year, these celebratory invitations can't be beat.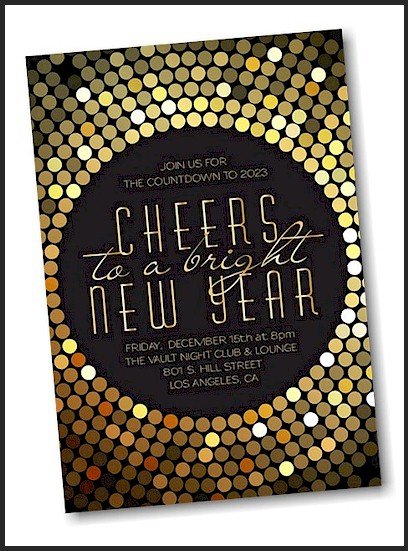 Fire It Up with the Fireworks Suite
The Fireworks Suite dazzles like New York City on the fourth of July! Mimic the beauty of a majestic fireworks display with this bedazzled invitation.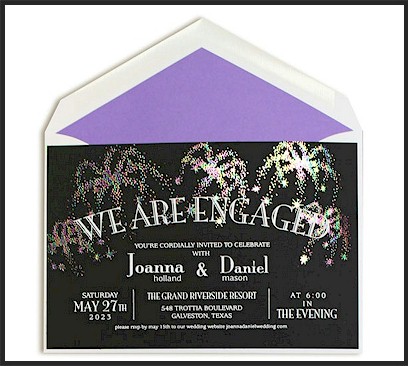 Want to incorporate a bit more color into your invitation? No problem! The Fireworks Suite D invitation takes things up a notch with a bright pink base that is sure to catch everyone's eye.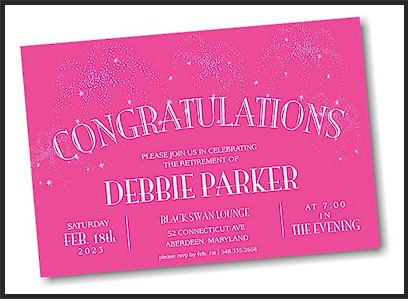 Giddy for Geometry
The Geometric Suite features invitations full of intricate and stunning geometric shapes. With its subtle shimmer and expert use of color, this invitation fits just about any personality and leaves a lasting impression.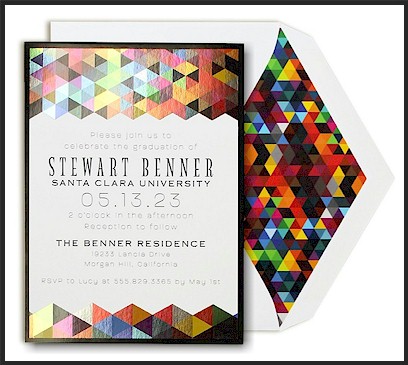 Nix the shimmer and up the color intensity and you have the Geometric Suite B Invitation, a perfect way to start the party.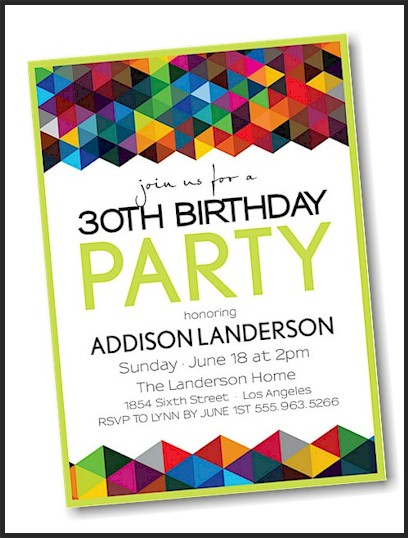 Hamsa Suite
This beautifully ornate invitation leaves quite the impression. An intricate and flowing rainbow floral pattern surrounds a Hamsa and your wording details. Can't get much more beautiful than that!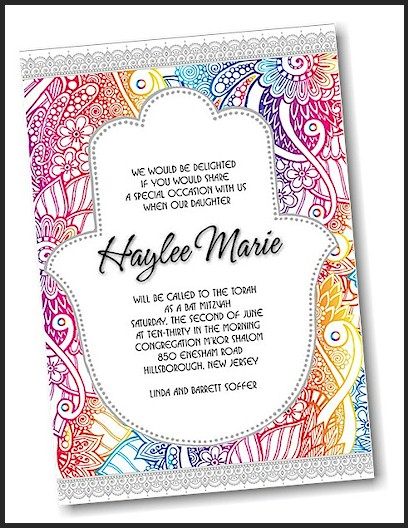 Circle Around the Party
If unique is what you're after, an invitation from the Circle Party Suite is the perfect choice.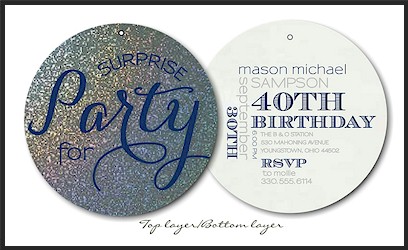 Choose from four different colors and unique designs. Stick to a traditional wording arrangement or spice things up with a custom photo surrounded by your wording details.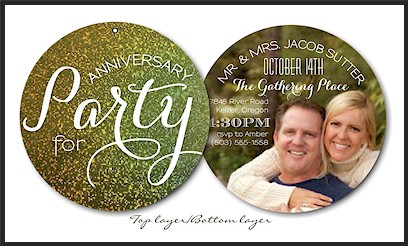 Chevron Chic
We live in an age of all-things-chevron. The popular print came roaring into the spotlight a few years ago and it never looked back. Keep your style current by choosing an invitation from the Chevron Party Suite. Bright colors and a print combination of polka dots and chevron create quite a striking display.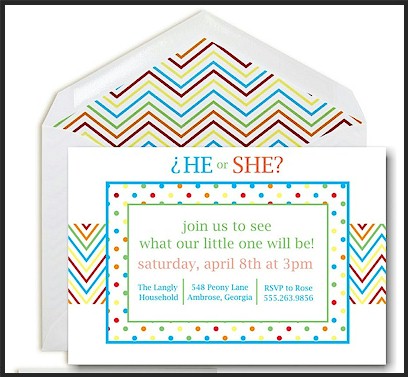 Get Your Party On
The gorgeous invitations featured in this post represent just a tiny selection from our party invitation collection. Shop our entire collection of party invitations today.

Also, coming soon is a companion album that offers coordinating reception items to match the invitations featured in the "Invitations for your Perfect Party" collection. This includes but is most certainly not limited to matching napkins, favor and cake boxes, and coasters. Stay tuned --- we will let you know when this amazing deal is available.

In the meantime, shop our extensive collection of party invitations today. Let us know if you need any assistance at all!

By Abby Teunissen
Abby is passionate about embracing diversity, fostering learning, and supporting rural communities. She lives with her husband and daughter on a grain and cattle farm near a small town in Northwest Iowa. When she's not whipping up blog posts or plugging away on other digital marketing projects, Abby enjoys spending quality time with her family, tending to her garden while soaking up all the Vitamin D she can get, helping her husband around the farm, and patiently awaiting her long overdue letter from Hogwarts.


---
Comments
Blog Index