Have a Ruff, Ruff, Meow and Happy Holiday!
---
Here at Invitations4Less, we truly love our pets. In many cases our after-hours conversations include a story or two about our precious four-legged family members.

We have recently added to our "family" and Iíll admit, I just canít wait to show off our newest pet in our Christmas card photo. Yes, I am one of the "those" people! My dogs have reindeer antlers, green and red scarves and get Christmas gifts. As if my friends donít see enough of my photos on Facebook, they will get a photo in the mail this holiday season too.

I love sending out Christmas cards and love receiving them even more. Itís the time of the year, when I actually remember to check the mail everyday! I am like a little kid waiting for Santa. The form letters are my favorite to receive, although I have never sent one. Photo cards are wonderful as well, especially from friends and family we donít connect with but once a year. But the fun and whimsical holiday cards are full of merriment as well.

Today I spent some time looking for the holiday cards that focus on our four-legged loves. Below are the cards I love...can you tell I have a special place in my heart for dogs? Why are those scrunched up faces so adorable? I love them all, but the driving dog is my favorite. He reminds me of Marley, our new Chesapeake Bay Retreiver. The bulldog and the bow card caught my eye with the detail of the artwork. All those rolls around his face look so real. Who could resist a face like that?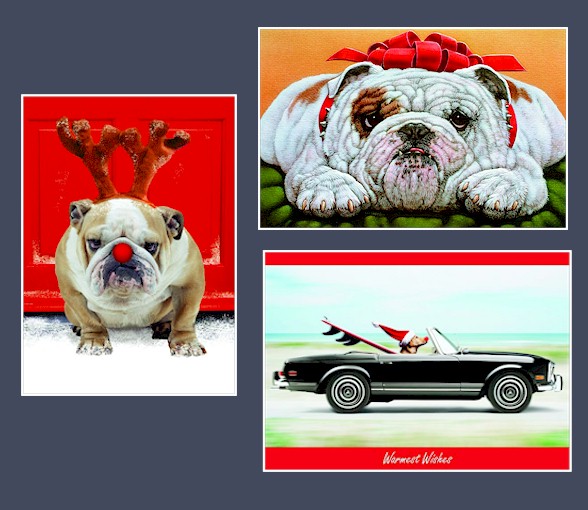 Card on left

Upper right

Lower right

These cards are available for the 2013 holiday season. Please contact us today for pricing information, verse and personalization options.

Happy holidays from all of us at Invitation4Less.com!

By Michaela
Michaela has been with Invitations4Less.com since 2003, showing off her customer service skills to a variety of stationery consumers.
Michaela is mom to two active pre-teens and spends her free time bike riding, boating, hiking and enjoying family time.


---
Comments
Blog Index