Preparing for Your Las Vegas Wedding
---
Did you know that Las Vegas is the top destination wedding spot amongst US Brides and Grooms? With 100,000 weddings a year held in Fabulous Las Vegas, and what appears to be a chapel on every corner, this is really no surprise. In last weeks blog we provided the details on some famous chapels.

If you're amongst the lucky ones who will be married in Vegas soon, here are some helpful tips to help you navigate the wedding scene.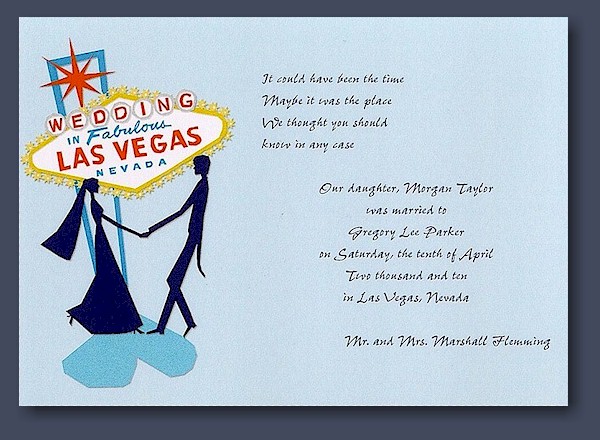 The options for your ceremony venue seem endless - from vintage chapels lining the strip, to elaborate wedding chapels inside casinos to a drive-up chapel where you don't even have to get out of your car to get married! We've already covered some of the more popular options for Destination Vegas weddings in last week's Wedding Wednesday blog.


And now, here's everything else you need to know:

-You will need to obtain a Nevada Marriage License for a fee of $60 (add $5 if using a credit card) prior to the wedding ceremony. Both the bride and groom will need to appear in person to apply, but you may minimize the time at the Marriage License Bureau by filling out the marriage license pre-application online in advance. The Marriage License Bureau is located at 201 E Clark Ave., near downtown Las Vegas, and is open 365 days a year from 8 a.m. to Midnight.

-During your appearance at the Clark County Marriage License Bureau, you'll need to provide identification for both parties. Acceptable forms of identification include State-issued Driver's License, Driver's Permit or Identification Card; Foreign-government-issued Identification Card or Driver's License (must show date of birth), Passport, US Military ID or Military Dependent ID Card from any branch of the service, Certificate of Citizenship, Certificate of Naturalization or Permanent Resident Card (Green Card) issued by the US Department of Citizenship and Immigration Services or a Voter Registration Card (only if it includes both a photo and date of birth). Other forms of identification may be acceptable. Refer to the Office of the Clark County Clerk for more information.

-No blood test is required and marriage may take place immediately upon receipt of the marriage license. If you are planning your Las Vegas wedding in advance, it would be fun, and relieve stress later, to obtain the marriage license during a pre-planning visit prior to the wedding date. The license is good for a full year after issue.

-Your marriage ceremony may be performed by a licensed minister, the Office of the Commission of Civil Marriages (commonly referred to as a "courthouse wedding"), or any other person authorized by the Nevada state government to perform marriage ceremonies.

-Las Vegas Wedding Invitations entice your guests to join the party and be a part of the fun! And because you wouldn't want anyone to be left out, make sure to send out your Las Vegas-themed Save The Date Cards well in advance.


Now spin the wheel and take a chance; you've hit the jackpot with true romance!

By Joyce Buczek
Google+

Joyce Buczek was the founder and original owner of Invitations4Less.com in 1999. She continues working with Invitations4Less.com as a consultant and guest blogger. In her spare time, Joyce enjoys traveling, cooking and spending time with her family, including 2 spoiled cats.


---
Comments
Blog Index