Holiday Cards in Presidential Style
---
It would be hard not to notice that we are in the midst of a big election year. The campaigning is in full swing and the debates are already underway. I realize that the process is an important one and I really do try to remain engaged and enthused. But, the negativity of election years tends to wear me down; it always has, so I won't mind too much when November is behind us. In the meantime, I thought it would be fun to escape the political drama and find some fun Presidential facts to focus on for just a few minutes.

I have always had a fascination with the White House. The beauty and history, along with a bit of mystery are intriguing to me. While I was working on my blog of the History of the Christmas Card, I found some Presidential Christmas cards from the past that I thought would be fun to share in a blog.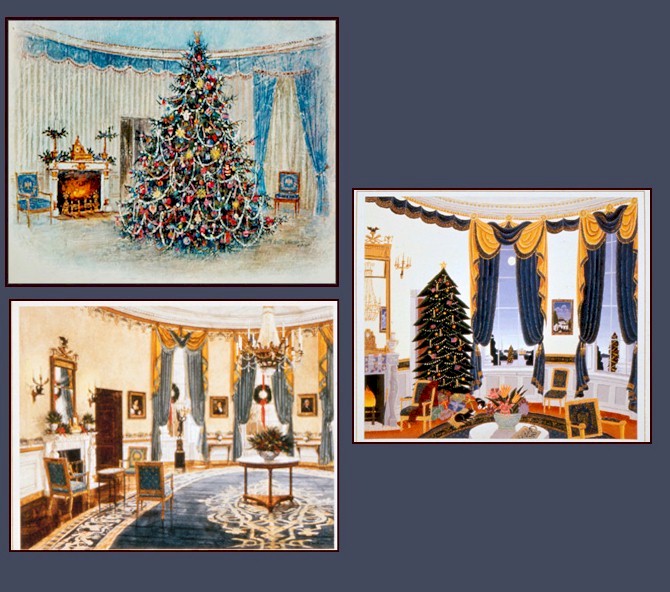 Throughout the years, the Blue Room has been a popular theme for the official White House Christmas Card. After all, the White House Official "indoor" Christmas tree is placed in this room every year. In the 1967, President Johnson sent out the Christmas card shown in the upper left corner. In 1985 Ronald and Nancy Reagan mailed out the Christmas card shown in the bottom left. Bill and Hillary Clinton sent out the Christmas card shown on the right in 1995. I love looking at this room throughout the eras and administrations. You can see that changes have taken place, but much of the detail throughout the room remains the same.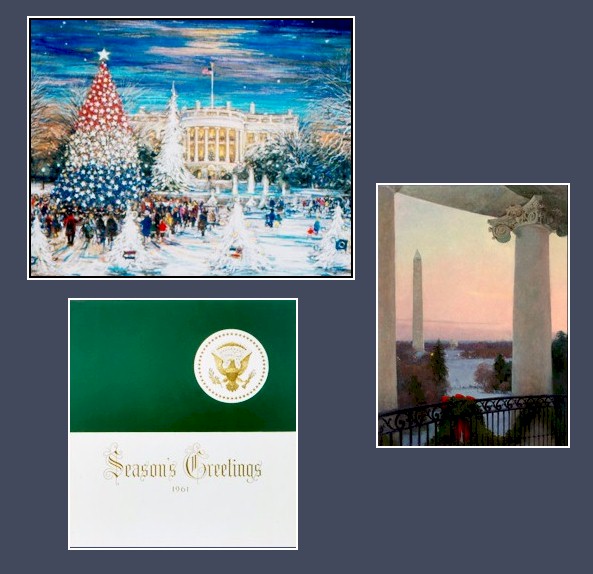 President and Mrs. Barbara Bush sent out this card in 1992 (upper left). This patriotic Christmas card highlighting the National Christmas Tree was designed by Kamil Kubik and produced by Hallmark Cards. In 1961 the Kennedy Administration sent out this Season's Greetings card (bottom left). These too were produced by Hallmark, 800 in total. The inscription inside read "The President and Mrs. Kennedy wish you a Blessed Christmas and a Happy New Year." Right: In 2008 President and Mrs. Laura Bush had an oil painting by T. Allen Lawson reproduced by Hallmark for their official White House Christmas Card.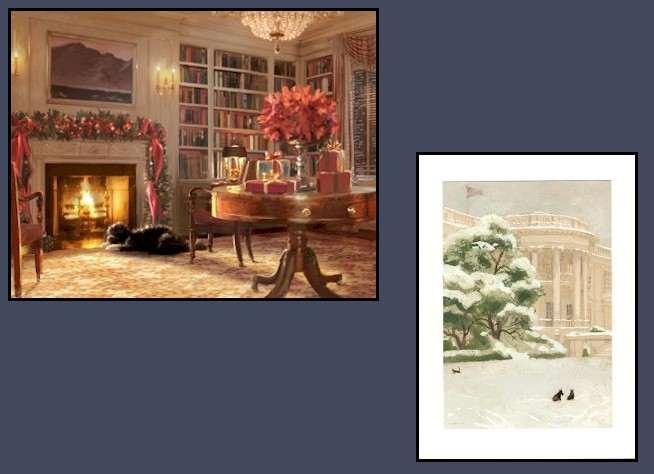 Finally, we'll look at the most recent White House Christmas Card. The Obama Family sent out this card in 2011. An interesting fact about Presidential Holiday cards is that traditionally the residents of the White House are not part of the design. Although, Bill and

Hillary Clinton did use their portrait in the 1993 card and Franklin D. Roosevelt appeared in several of his cards. That being said, the Obama's included their beloved Bo in this image. In 2005, President George Bush and First Lady Laura Bush included India, Barney and Miss Beazley in their official Christmas card.

I'll blog on this topic again as soon as the 2012 White Card is announced. We wish everyone a wonderful start to the holiday season.

By Michaela
Michaela has been with Invitations4Less.com since 2003, showing off her customer service skills to a variety of stationery consumers.
Michaela is mom to two active pre-teens and spends her free time bike riding, boating, hiking and enjoying family time.


---
Comments
Blog Index