Jessica Biel is Pretty In Pink
---
It's been 25 years since I walked down the aisle in a butter-ivory, off-the-shoulder, sweetheart-neckline gown which I think made my buttoned-up mother gasp a little the first time she laid eyes on it. Even then, there were murmurs of wearing more non-traditional colors on the wedding day. Pink, yellow and even baby blue were shown in the popular bridal magazines, but never did I see anyone actually donning these colors on their big day. Until now!

Jessica Biel looked simply stunning in her Giambattista Valli Haute Couture gown as shown in last week's People Magazine. And, yeah, I'd say Justin Timberlake looks pretty happy!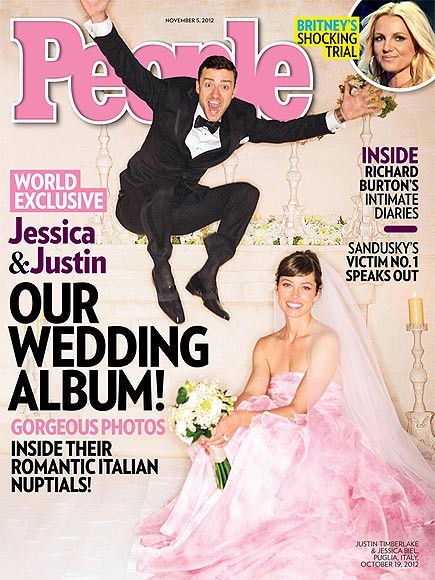 But Jessica was not the first to veer off the course of tradition. Reese Witherspoon, Portia De Rossi and Anne Hathaway, to name a few, have sidestepped the expected white gown and stepped into the more flattering and ultra feminine hue for their special day. I, for one, am ready to start the trend watch!

And with pink being one of the most flattering-to-skintone-colors, you'll want to surround yourself with it on your wedding day!. Here's a little inspiration to get you started.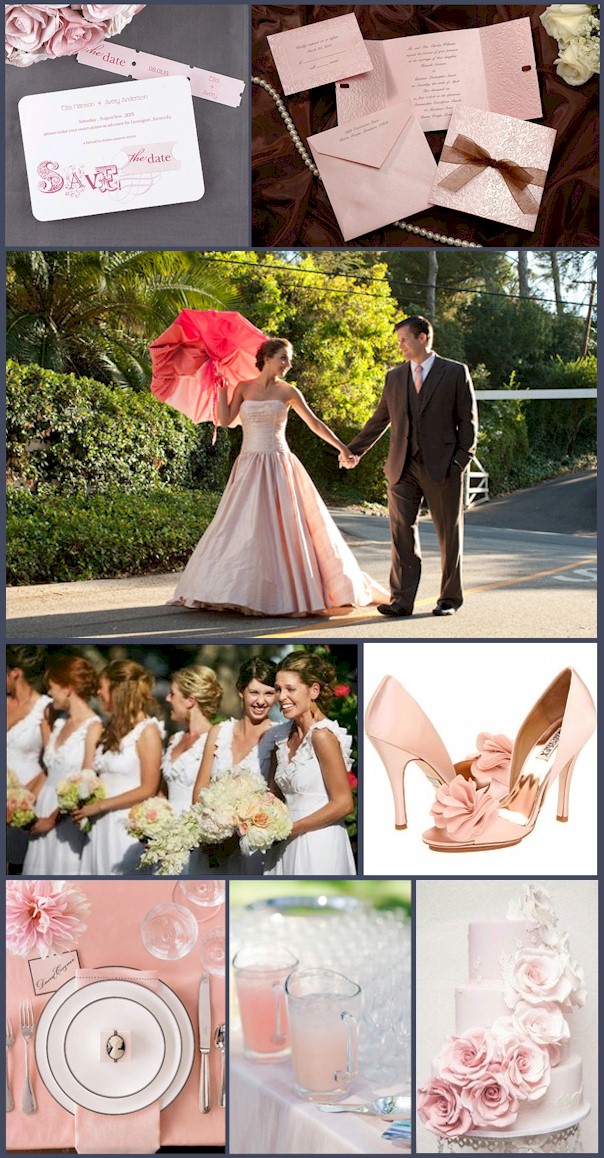 Set your intentions for a pastel wedding with this unique Ticket to Love Save The Date Card from Carlson Craft. Your guests will love revealing the date of your nuptials while interacting with the whimsical ticket format.

Birchcraft Studios offers up this shimmering Pretty in Pink Wedding Invitation with the perfect hue of blush pink. Choose your own ribbon color to coordinate your wedding. Options include White, Silver-edged White, Pearl-edged White, Ecru, Willow, Black and Mocha (as shown). So pretty!

The Alisa Benay blush pink gown as discovered on the Green Wedding Shoes Blog is the perfect hue for flattery. I love how the groom wore mocha - softer than the traditional black, but still quite chic. And check out that pink tie. What a sport!

What to dress the bridesmaids in? Crisp white is a great choice! This photo was found on weddingbee.com.

I'm lovin' me some Badgley Mischka shoes right about now. These would be perfect with those white bridesmaid dresses.

Simple white dinnerware looks elegant atop the blush pink linens. Martha Stewart knows her stuff!

What could be more perfect than pink lemonade on a warm summer day?

And have you ever seen a more gorgeous use of pink on a wedding cake? Avoiding the over-the-top-sweet appearance you might expect of a wedding cake done up in pink, this ombré roses cake hits all the right notes.

Visit our Pretty In Pink Pinterest Board for more great Pink Wedding Inspiration!

By Joyce Buczek
Google+

Joyce Buczek was the founder and original owner of Invitations4Less.com in 1999. She continues working with Invitations4Less.com as a consultant and guest blogger. In her spare time, Joyce enjoys traveling, cooking and spending time with her family, including 2 spoiled cats.


---
Comments
Blog Index