Pride Through Tradition Bar Mitzvah Invitations
---
Although 2017 is shaping up to be a year full of modern style and bold new designs, there's one thing that will never go out of style --- tradition. Customizing a traditional Bar Mitzvah invitation is a great way to announce your celebration while honoring your Jewish heritage. Lucky for you, we have a great selection of traditional Bar Mitzvah invitations that feature Jewish symbols. Read on for a look at some of our top picks.

The Cherished Torah Bar Mitzvah invitation features a stately blue border along with two elegant silver borders and is topped off with a simple yet stunning torah design in silver.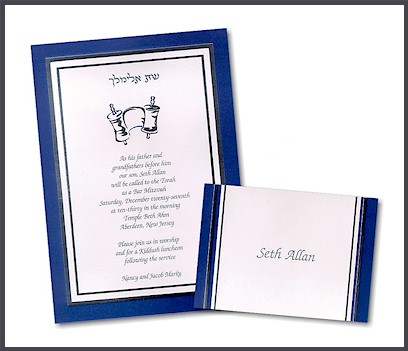 The Golden City Bar Mitzvah invitation, though contemporary in design, honors Jewish tradition with a full Hebrew translation. This perfect blend of tradition and modern style creates a feast for the eyes.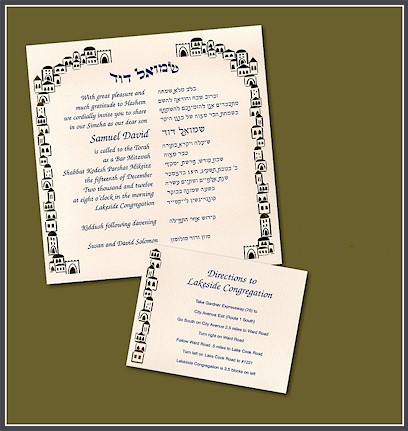 With dramatic and tasteful design, this Bar Mitzvah invitation shimmers with style! Your son's Hebrew name printed vertically down the side adds the perfect timeless touch.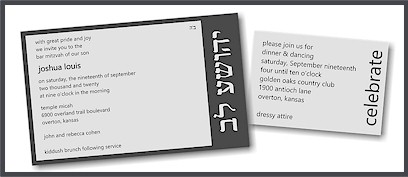 The Mitzvah Type Layered Bar Mitzvah invitation features a modern layout atop a timeless ecru shimmer cardstock. Your son's Hebrew name emblazoned across the top completes the display.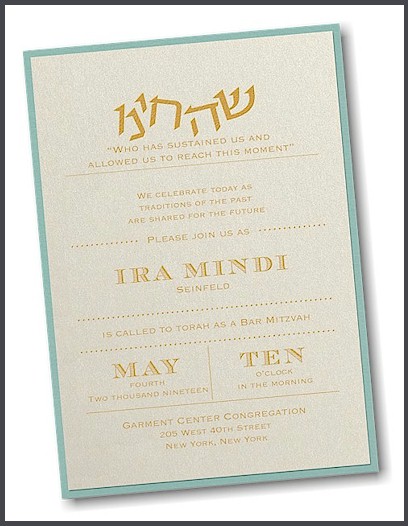 The Royal Frame Bar Mitzvah invitation will transport your guests into royal paradise. With its majestic and intricately detailed border, royal motif, and Star of David, this invitation truly glows.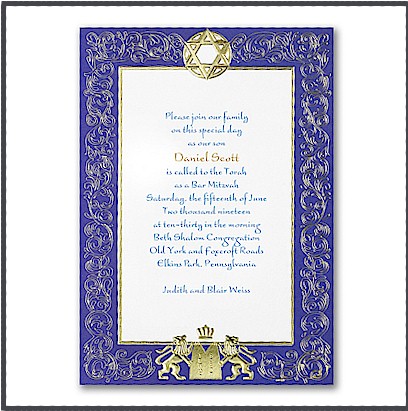 The Blessed Tallit Bar Mitzvah invitation features another essential piece of Jewish culture: the Tallit. The beautiful colors combine with a handsome design to give you a simply perfect invitation.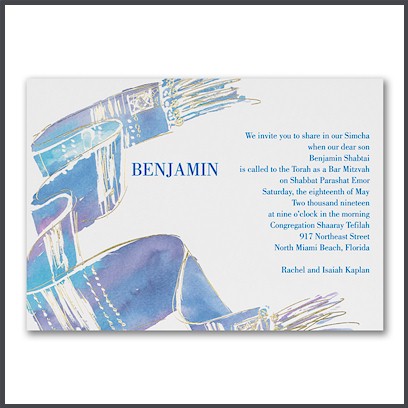 The next invitation combines two of my favorites: cream and chocolate --- colored cardstock, that is :). The elegant combination of colors along with the Hebrew translation for "L'dor V'dor" embossed on the left side make this invitation uniquely outstanding.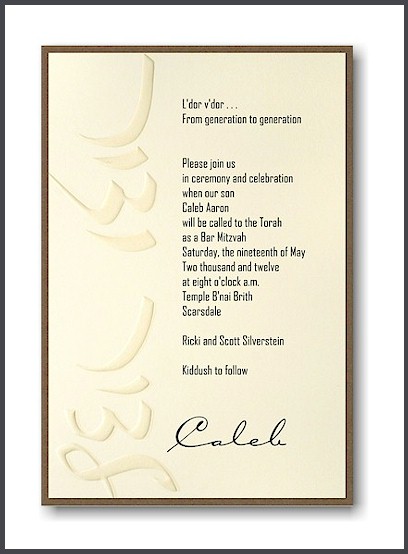 There's nothing like keeping close to tradition while embracing modern style at the same time! The Commandment of Faith Pocket Bar Mitzvah or Bat Mitzvah Invitation lets you do just that with its rich navy shimmer and personalization options. Create your own custom style by choosing your ink or foil along with the printed pocket color.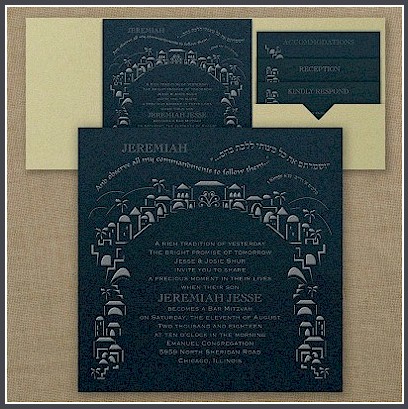 Shop Exceptional Bar Mitzvah Invitations --- Discounted Every Day!
There are definitely more traditional Bar and Bat Mitzvah invitations where that came from. Shop our extensive collection today --- we have beautiful invitations at every price point. Did I also mention that all of our items are discounted every day? That means no need to wait for a coupon code to catch that blowout sale that you can never seem to remember.

If you'd like some assistance in your journey to find the perfect invitation for your Bar or Bat Mitzvah, email us today! Our experienced representatives would love to assist you!

By Abby Teunissen
Abby is passionate about embracing diversity, fostering learning, and supporting rural communities. She lives with her husband and daughter on a grain and cattle farm near a small town in Northwest Iowa. When she's not whipping up blog posts or plugging away on other digital marketing projects, Abby enjoys spending quality time with her family, tending to her garden while soaking up all the Vitamin D she can get, helping her husband around the farm, and patiently awaiting her long overdue letter from Hogwarts.


---
Comments
Blog Index