Prom Invitations Have Arrived!
---
Are you ready to add some glamour, glitz and pizzazz to your prom or school dance? Prom season is just around the corner and for those organizing this momentous occasion, the details and plans are already underway. It's an exhilarating time for teens and the traditions leading up to it are more exciting than ever. That's why we are thrilled to introduce our new line of Prom Invitations. They are classy, festive and are a great way to request of the presence of fellow classmates and friends to an unforgettable evening.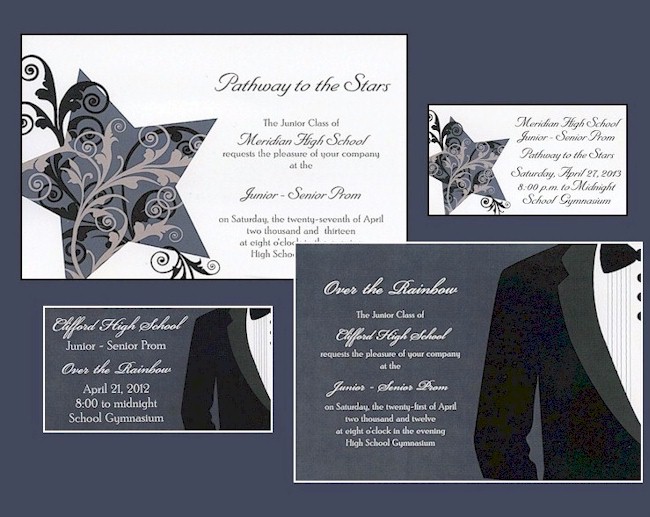 Upper left: Our Into The Night Prom Invitation is sophisticated and fun. The silver and red flourish design adds a touch of elegance to the black background. Looking for the perfect invitation for a Father and Daughter winter dance? This invitation will set the tone for a spectacular evening.

Lower right: Planning a Hollywood themed event? Let our Red Carpet Prom Invitation launch an evening of memorable moments with friends and fellow classmates. It's elegant and classy, but still fun and jovial.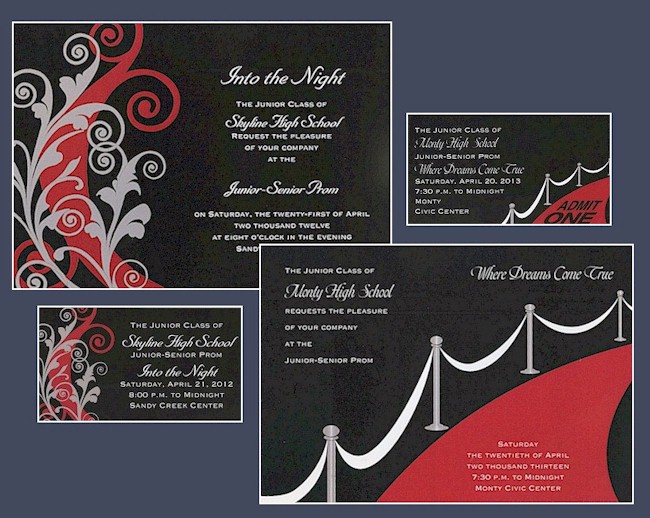 Upper left: The Pathway to the Stars Prom Invitation will set the tone for spectacular evening. The flourish design for a tone-on-tone effect within the star is contemporary and whimsical. Bottom right: Are you looking for elegant and formal invitation. Check out our Formal Affair Prom Invitation. The name of this invitation says it all.

Each of the options shown above may be personalized for your class or schools big event. Tickets to admit may be added to each of the invitations shown above. Please contact us for more details.

By Michaela
Michaela has been with Invitations4Less.com since 2003, showing off her customer service skills to a variety of stationery consumers.
Michaela is mom to two active pre-teens and spends her free time bike riding, boating, hiking and enjoying family time.


---
Comments
Blog Index