Princess For A Day!
---
Every young Latina dreams of the day she will become a Quinceañera. It is the time in her life when she leaves her childhood behind and enters a new phase and is a special occasion for her and her family. Many girls dream of a fairytale-like event, one that is perfect for a princess. It's no wonder that princess-themed parties have always been popular.

The first step in planning the celebration is selecting the perfect invitation. The invitation sets the mood for the entire event and gives guests a glimpse of what to expect for the big day.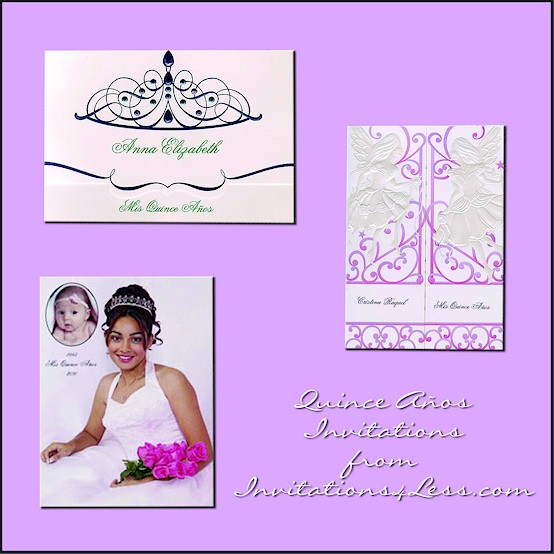 When decorating the venue, use pastel shades, but refrain from using more than three colors. For example, lavender, when incorporated with beige and white makes a delightful combination. To achieve a stunning effect, place floral arrangements in the center of each table using matching colors. Consider taking a corner of the room and decorating it with candles, flowers and lights for special photo opportunities.

To make your venue more intimate and festive, drape gossamer on the walls, from the ceiling, and on the table skirting. Gossamer is a sheer decorating fabric that will add class to your reception. To achieve a more dramatic effect, twist two or three coordinating colors together before draping.

No princess would be complete without a tiara. Carry over your princess-for-a-day theme and decorate with more tiaras on your tables! Wrap them around pillar candles for a dramatic effect.

Chocolate fondue fountains can be a welcome change to the elegant, tiered cakes which have traditionally been a staple at Quinceañera celebrations. Fresh fruit such as strawberries, cherries, banana slices, apples, and pineapple along with pound cake and marshmallows can be artfully arranged on crystal platters. Using skewers, your guests will love dipping their favorites into the melted chocolate. Who doesn't love chocolate?

These are just a few of our favorite ideas which can be incorporated into any Quinceañera celebration. Visit us every Tuesday for more great ideas!

By Jeanne Woodyard
Google+

Jeanne has worked in the printing industry for nearly 30 years and became the new owner of Invitations4Less.com on January 1, 2012.
When not working with our customers, Jeanne enjoys spending time with family and friends, RVing with her husband and spoiling her two kitties.


---
Comments
Blog Index