That Finishing Touch!
---
Tiaras are a very important accessory for Quinceañera girls because it typically helps to draw attention to the girl, making her look like a Princess. There are so many different colors and styles available to accommodate the theme of the Quince party and style of the girl.

Besides finishing off the look for the Quinceañera it also has a very important meaning on the Quince girl's journey to womanhood. The tiara, crown, and headpiece symbolize that a young woman will forever be one of God's Princesses. The Quinceañera's tiara is always the biggest so that she is distinguishable from the other girls in the court.

In choosing a tiara there are several factors in helping decide what best suits the girl. The design and material of a tiara must combine with the dress's tone and they can vary from very simple and conventional to well-decorated and modern. Hairstyle is one of the most fundamental parts in helping to choose the right tiara for you. You should make sure to take your crown to your hair stylist so you can try different styles and decide what is best for the tiara of your choice.

Height is also a factor and is something to keep in mind when choosing your tiara. Make sure that you are wearing the crown and that the crown is not wearing you. Lastly, make sure that it comfortably fits your head and that it won't require excessive pins that may make it very uncomfortable for you to wear all evening long.

You can also base the theme of your special day off of a special tiara with matching favors or invitations.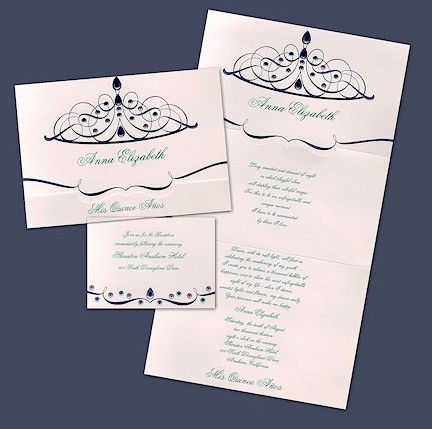 Remember you are the most important part of your Celebration and the accessories should just be the added element to your event.

By Anne
Anne has been with Invitations4Less.com since 2004 and came to us already knowledgeable about social stationery after previous employment with a wholesale printing firm.
Anne is mom to two young children who keep her busy and dreaming of sleep. But she wouldn't have it any other way!


---
Comments
Blog Index