Rosh Hashanah - A Brief Introduction
---
Rosh Hashanah, also known as the Jewish New Year, generally falls in September, but may occur in early October, and is celebrated by Jews the world over. Rosh Hashanah Cards are sent, special foods are prepared, family time is a priority and the faithful spend the day preparing for the ten days of quiet reflection and prayer to follow.

Rosh Hashanah translated literally means "Head of the Year". It is also referred to as a Day of Remembrance because it commemorates the birth or creation of humankind or, by some, of the world. This special day marks the beginning of the ten day period often referred to as the High Holy Days, the most sacred days on the Jewish Calendar, and is the first day of the year on the Jewish Calendar. It is observed beginning at sundown on the day before the holiday's date on the Gregorian calendar and ends at sundown the next day.

Unlike the New Year of the Gregorian Calendar, Rosh Hashanah is not spent in raucous party mode but rather in quiet reflection with family and close friends, observing tradition and rituals of the Jewish faith. This day is followed by ten days of repentance and reflection leading up to Yom Kippur, the Day of Atonement.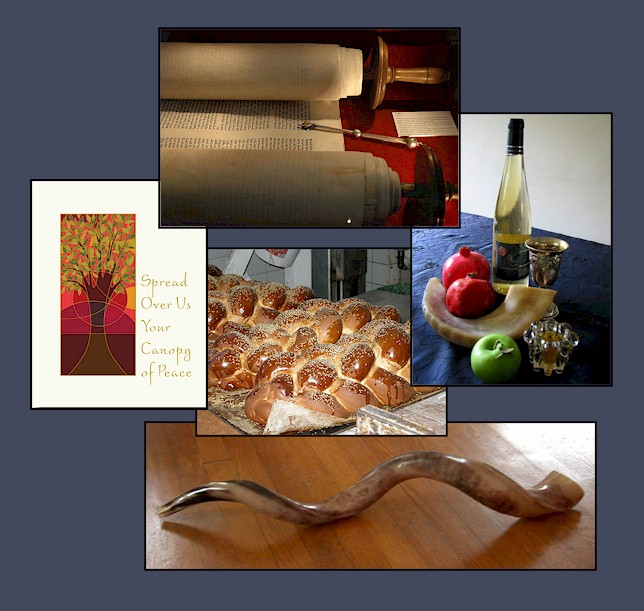 Some of the rituals and traditions common to observers of Rosh Hashanah include sending Jewish New Year Cards to loved ones; preparing meaningful feasts of symbolic foods, often including apples and honey to portend a Sweet Year, tongue or other parts of the head of an animal to symbolize the "head of the year", pomegranates, with their many seeds, to symbolize the fruitfulness of life and a round, rather than the usual braided, challah bread to represent the circle of life, among others; blowing of a Shofar (ram's horn) as a wake-up call following each of three Rosh Hashanah services and casting pebbles or pieces of bread into a flowing body of water to symbolize the washing away of past sins and spiritual cleansing to start the new year with a clean slate.

The exact dates of Rosh Hashanah of each year are calculated using the Hebrew calendar. Rosh Hashanah falls during the first two days of the seventh month, known as Tishrei, and always 163 days after the first day of Passover.

In 2011, Rosh Hashanah will fall on September 29, with observance commencing at sundown on September 28.
Future years are as follows:
2012: Beginning at sundown 9/16/2012
2013: Beginning at sundown 9/4/2013
2014: Beginning at sundown 9/24/2014
2015: Beginning at sundown 9/13/2015

View our full collection of Rosh Hashanah Cards here!

By Joyce Buczek
Google+

Joyce Buczek was the founder and original owner of Invitations4Less.com in 1999. She continues working with Invitations4Less.com as a consultant and guest blogger. In her spare time, Joyce enjoys traveling, cooking and spending time with her family, including 2 spoiled cats.


---
Comments
Blog Index