Royal Wedding Mania
---
Did you set your alarm clock last Friday morning to watch the Royal Wedding, uniting Prince William and Catherine Middleton? I did not, but learned during the countdown to the big day that many of my friends planned to do so and have heard a lot of opinions on how the nuptials proceeded in the days since. I've also been reading reports about copy-cat dresses, tiaras, jewelry, and even royal getaway cars being produced for the masses in record time ever since!

If you're one of the dedicated royal-philes looking to replicate every last detail or simply a hopeless romantic, the future appears bright for you!

Only time will tell what the effect of the royal wedding will be on American wedding trends. However, we can postulate that dresses will be lacey and streamlined, tiaras will be prevalent, many engagement rings will include stones other than diamonds and gold will return to favor as the accent color of choice for wedding invitations. Will grooms follow Will's lead and wear colored jackets? We couldn't say, but we'll watch with interest!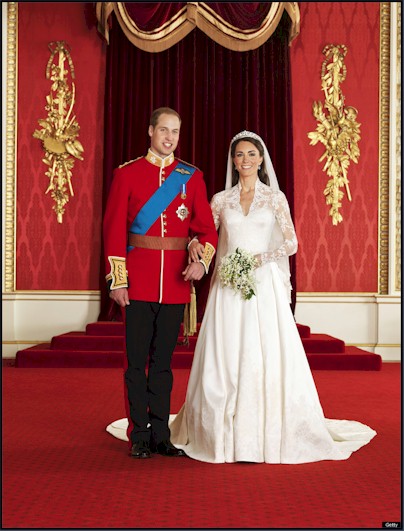 Several months ago, we talked about the wedding invitation used for Diana and Charles in 1981. The wedding invitation used for Will and Kate was identical except for the details written upon it. And we now have access to view the Royal Wedding Program, which is more casual, and downright book-like. I especially love the black and white photo included in the program as it clearly shows their comfort and affection with each other, a refreshing modern touch for a couple that must live by rules and formality.

So, let us hear from you! Were you watching the wedding live? Will you take any cues from them in choosing your dress, wedding invitations and wedding programs?

By Joyce Buczek
Google+

Joyce Buczek was the founder and original owner of Invitations4Less.com in 1999. She continues working with Invitations4Less.com as a consultant and guest blogger. In her spare time, Joyce enjoys traveling, cooking and spending time with her family, including 2 spoiled cats.


---
Comments

Name: Pat
Location: Ontario, CA
Location: I invited several girlfriends over for a sleep-over. We wore the fanciest hats we could find at second-hand shops along with our pajamas and sipped English Breakfast Tea out of my grandmother's china cups (with our pinkies out, of course!). Great fun was had by all!

Blog Index