Kiss Me, I'm Irish!
---
Everybody loves St. Patrick's Day, but for the Irish Americans among us, it's a special day, indeed. And when lovers choose to marry on March 17th, it adds another reason to celebrate every year thereafter!

In 2012, St. Patrick's Day will fall on a Saturday, the traditional day for American Weddings. This won't occur again for another 6 years! If you're taking advantage of the Luck o' the Irish and choosing to wed on Saturday, March 17, 2012, you're not alone for sure! A quick look at The Knot's and Brides' wedding forums reveals brides from all over the U.S. planning their weddings on St. Paddy's Day and comparing notes about how to incorporate the theme into their wedding day.

If you're among the lucky who are planning a St. Patrick's Day wedding, here are a few traditions to incorporate into your day.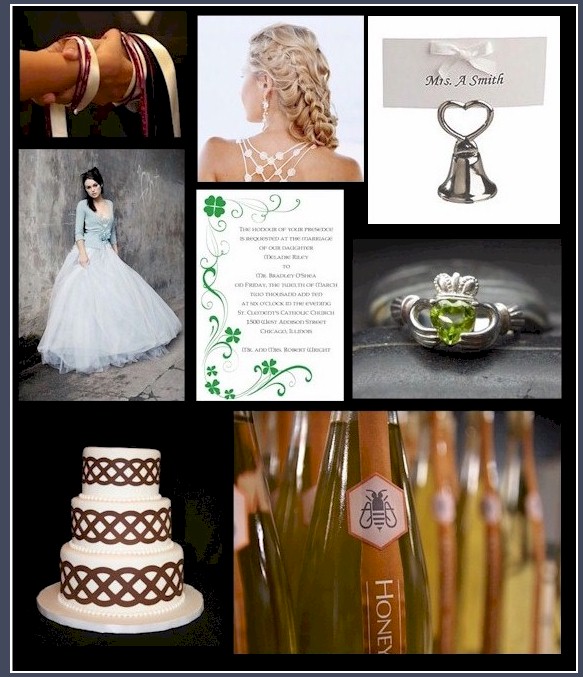 Handfasting is a traditional pagan ritual during which the right hands of the bride and groom are bound together with ribbons or cord for the duration of the wedding ceremony. The colors of multiple ribbons or woven into the cord symbolize various virtues, such as red for love, light blue for patience and understanding and green for fertility and luck. Although this ritual originated in pre-Christian times, it is still widely celebrated throughout Europe and as a joyful part of American wedding ceremonies, as well.

The Bride may wish to wear her hair in a beautiful braid on her wedding day. Braided hair is a symbol of feminine strength and luck.

Bells have long been a symbol of weddings, but in the Irish culture, no wedding would occur without them! Bells are said to ward off evil spirits and serve to remind the Bride & Groom of the love they felt for each other on their wedding day. Bells make excellent wedding favors, and a beautiful crystal bell engraved with the couple's name and wedding date would make a thoughtful gift.

Irish brides have traditionally worn a wedding dress of blue, since blue was considered the color of purity long before white came into vogue. We love the blue tulle skirt and sweater set shown above. So unique, and feminine!

Four-leaf clovers are highly regarded as a symbol of good luck, so why not incorporate them into your wedding day? According to tradition, each leaf in a 4-leaf clover represents a virtue: the 1st leaf is for faith, the 2nd for hope, the 3rd is for love and the 4th is for luck.

The Claddagh is a traditional symbol of love and friendship and dates back to the times of William and Mary. The design originated in the Irish village of Claddagh, outside of Galway. It has become a very popular design for wedding rings and has varying meanings based on how it is worn. Since the claddagh may just as well symbolize friendship as love, wearing the ring with the crown pointing toward your fingertip on your right-hand ring finger, the ring symbolizes that you are not currently involved in a romantic relationship and the ring has been provided by a loved one. The claddagh ring is a traditional gift from mother to daughter.
When the ring is received as a gift from a romantic partner, it is worn on the same, right-hand ring finger with the crown pointing towards the wrist. This position symbolizes that you are romantically involved with someone.
When the ring is received as an engagement or wedding ring, it is worn on the left-hand ring finger to symbolize commitment in love.
There are many beautiful claddagh rings available from rustic to elegant designs, molded in one piece from precious metal or inclusive of a stone in the position of the heart.

Celtic knots, such as the pattern shown on the wedding cake above, are said to symbolize the eternal cycle of life with their design which has no beginning and no end. What a beautiful concept to express on your wedding day!

Mead served on your wedding day will be sure to come as a surprise to your guests! Mead is a wine made from honey and water and is said to be a traditional drink of newlywed couples and integral to fertility (the latter of which we cannot verify!). Mead is one of my favorite wedding gifts because of its traditional symbolism, but serving it to guests at the reception would be equally pleasing and think of the fun you could have in tasting mead varieties before the wedding to make sure you have the best to serve on your wedding day!

Finally, an Irish wedding prayer for your future as husband and wife:

May the Good Lord watch over you as you grow in love.
May he bless your home with the peace that surpasses understanding.
May he crown your work with success and fulfillment.
May you always be thankful for every blessing, great and small.


Find your Irish Wedding Invitations at Invitations4Less.com.

Image Credits:
Handfasting: WeddingBee
Braided Hair: WeddingBee
Wedding Bell Favors: TheKnot
Wedding Dress: Wedding Deals
4-Leaf Clover Wedding Invitation
Claddagh Ring: Etsy Seller nellyvansee
Wedding Cake: Sweet Grace Cake Design
Mead: Maine Mead Works

By Joyce Buczek
Google+

Joyce Buczek was the founder and original owner of Invitations4Less.com in 1999. She continues working with Invitations4Less.com as a consultant and guest blogger. In her spare time, Joyce enjoys traveling, cooking and spending time with her family, including 2 spoiled cats.


---
Comments

Name: Sarah
Location: Cincinnati, OH
Location: Love the braided hair! I'm taking this to my stylist.

Name: Joyce
Location: Invitations4Less.com
Location: Beautiful, isn't it? It's even more lovely for the meaning it bears. Best wishes to you!

Blog Index